Leonard M. Copertino has joined the Mohawk Valley Health System Surgical Group with privileges at Faxton St. Luke's Healthcare in Utica. He has an interest in a broad range of general surgery procedures and is board-certified in general surgery.
By Barbara Pierce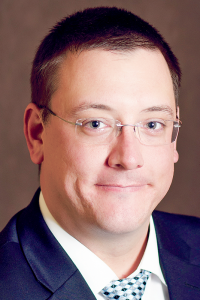 Q.: As a general surgeon, you perform many different types of surgeries. This requires that you have expertise in a broad spectrum of diseases and conditions. You also must have the ability to make immediate, complex decisions. How did you gain this expertise and these abilities?
A.: To become a general surgeon, my expertise comes from five years as a resident in general surgery. The first portion of my residency was performed at the University of Connecticut and its affiliated hospitals. After two years, I transferred to SUNY Stony Brook to complete my training.
Also, prior to coming to MVHS, I was an attending physician in general surgery at Northport Veteran's Affairs Medical Center, Northport.
Q.: What types of surgery do you do?
A.: I do what is called "bread and butter" surgery. This refers to the most common general surgical procedures, such as cholecystectomy (gallbladder removal), appendectomy, hernia repair, soft tissue lumps and bumps, and general intestinal surgery.
Q.: You describe your practice as "institutionally based." What does that mean?
A.: My experience working as a physician is based upon being hired to provide surgical services within the hospital that employs me.
Q.: Do you specialize in proctology and endoscopy procedures?
(Note: Proctology procedures deal with disorders of the rectum, anus, and colon. Upper endoscopy deals with the upper gastro-intestinal tract; colonoscopy with the large intestine, colon and rectum.)
A.: I had training in these procedures through my residency. Also, I had much experience with these procedures as they made up a moderate percentage of my practice at my prior position. A large number of my previous patients had never undergone colonoscopy. I was able to provide that service for them, as well as management of more common ano-rectal disorders such as hemorrhoids and fissures.
Q.: We all dread having a colonoscopy. (Guidelines say that at age 50, everyone should consider having a screening test for colon cancer, and then as needed, with no longer than 10 years between procedures.) When and why should we consider having one?
A.: Colon cancer is one of the three most common cancers in this country. It is one of the most lethal cancers. However, if colon cancer is diagnosed in its early stage, the five-year survival rate (a common benchmark for cancer studies) is 90 percent or greater. If it's diagnosed in later stages, that survival rate can drop dramatically — as low as 10 percent.
Clearly, diagnosing and treating colon cancer early is a huge benefit. To that end, every person should have screening colonoscopies starting at the age of 50 at the latest. If you have a family history of colon cancer or certain other risk factors, then it may behoove you to undergo screening earlier than that.
Q.: Can you say anything to make it more palatable so that we don't avoid it?
A.: As for everyone's fear of colonoscopy itself, the procedure is virtually painless. With the aid of anesthesia, patients will be unaware they are even having the procedure.
The bowel preparation is the aspect of colonoscopy that most patients are the least comfortable with, but even that has improved over the last 10 years with gentler medication regimens.
Q.: What is most challenging about being a general surgeon?
A.: The hardest part of being a general surgeon, I think, lies in the inherent mortality of humanity. The technical aspects of surgery are tricky, but usually surmountable.
But when we lose a patient, despite doing our utmost, that's the hardest part. To cope with the fact that, despite how far we've come with modern medicine, for some things we simply don't have a cure.
Q.: What accomplishment in your career as a surgeon are you most proud of?
A.: I'm still a relatively young surgeon, with a long career ahead of me. But I think what I am most proud of to date is some of the education I was able to offer to those following behind me while still in training. I've had the opportunity to work with a lot of medical students and junior residents, and being able to help them along the path is very gratifying.
Q.: What is most gratifying about being a general surgeon?
A.: The satisfaction that I gain and the sense of personal accomplishment after a procedure well done is the best part about being a surgeon.
It's not uncommon to leave the hospital with the knowledge that I, personally, saved a human life that would have otherwise ended that day. To be able to perform something like that, and the appreciation and joy of the patient and his family, is truly an awesome feeling.
---
Lifelines
Birth year: 1980
Birthplace: New Britain, Conn.
Current residence: New Hartford
Education: Doctor of Medicine degree from St. George's University School of Medicine, Grenada, West Indies; bachelor's degree from Middlebury College in Middlebury, Vt.
Affiliations: Faxton St. Luke's Healthcare
Personal: Single
Hobbies: Diehard skier/snowboarder every winter (I love snow), avid golfer and fly fisherman. I am attempting to be a semi-competent photographer, particularly of waterfalls and sunsets. I love to read science fiction and fantasy, huge fan of J.R.R. Tolkien ("The Lord of the Rings") and Jim Butcher ("The Dresden Files").