Zalatan Dental: To get rid off chagrin falls dentist you can approach amiable and modern Dentist,which is located at 2607 Genesee St., Utica.It is a patient-oriented dental practice with a strong team approach that is dedicated to providing excellence in dental care and committed to forward-thinking ideas. Both Dr. Justin Zalatan and Dr. Salina Suy offer a wide range of dental services from cosmetic and restorative dentistry, to Botox injections and implantology.
By David L. Podos
Q.: The Zalatan Dental: Modern Dentist practice emphasizes its use of high-end technology. How does that set you apart from other dentists in the area?
A.: Zalatan Dental: Modern Dentist prides itself on being an innovative, patient-focused dental practice. People who Check This Out would be amazed at the innovations in the field.We adapt and treat our patients based on the latest science and offer a wide array of dental services such as but not limited to implant surgery, 3-D imaging, root canal therapy, sleep apnea treatment, and Botox injections.
As modern dentists in general dentistry, Zalatan and Suy strive to treat patients' oral health comprehensively while making sure they are comfortable and educated about their treatment. You can check out dental consultant from here if you need the best dental services.
Q.: Dr. Suy joined the practice recently. What skills does she bring?
A.: Dr. Suy is a young modern dentist who emphasizes patient education and has a deep passion for implantology, oral surgery, as well as cosmetic dentistry. If you want better dental services, contact dentist rexburg.
Not only is she highly educated, but she is hospital-trained and cares for her patients as a new member of this community.
Q.: How important are the roles of other team members such as receptionists and dental hygienists to the day-to-day operation of the practice? Can you describe their impact on patients?
A.: The Zalatan Dental team is a family. Each and every person plays an important role in our patient care.
We function as a team to help build healthy, trusting relationships. Together, we train under an entrepreneurial mindset, growing together and becoming the best we can be.
Q.: Do you provide emergency off-hour services?
A.: We proudly offer 24/7 call services for our patients. Patients of Zalatan Dental can call anytime and are promoted to click number 1 for Dr. Zalatan or click number 2 for Dr. Suy. The calls are forwarded immediately to the dentist's personal cell phones so they receive your call-in real time.
Q.: What are the age groups you typically see?
A.: All ages from 1-99. Bringing in your child young is great to build positive experiences over time. When they get their first teeth, they can begin to come and meet us.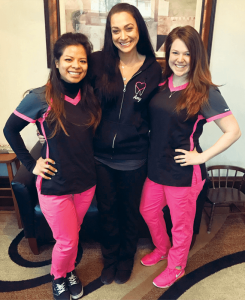 Q.: Is staff involved in any on-going continuing education training programs or classes?
A.: Yes, our team is always learning. Presently, our entire team is training with a management company that encourages self-development and personal growth. Jose, one of our assistants, is going to attend phlebotomy training to add advanced healing techniques to the office.
All of our hygienists are trained in laser bacterial removal. Stephanie, our treatment coordinator, and Amy, lead assistant, recently finished Online Medical Coding Classes and are now proficient in advanced medical coding.
Dr. Suy and Dr. Zalatan do continuing education about once a month with Dr. Suy doing additional training to pursue advanced fellowships. One of our team agreements is to always strive to be better.
Education and training are a huge part of that.
Q.: Has the practice received any awards or special recognition?
A.: Dr. Suy was a Top 3 dentist in last year's Observer Dispatch "Best of the Best" competition, and we are hoping she places higher this year.