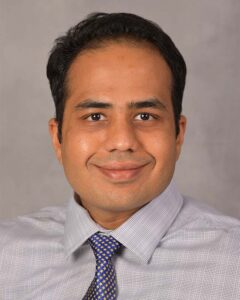 Physician Seetharam Bhat has joined Upstate Urology at MVHS as a consultant urologist and assistant professor of urology for SUNY Upstate Medical University.
Bhat received his medical degree from the Seth Gordhandas Sunderdas Medical College and King Edward Memorial Hospital of Mumbai, India. He completed his residency in urology at Stanley Medical College in Chennai, India, a fellowship in laparoscopy and robotics at AdventHealth Global Robotics Institute in Celebration, Florida, and a fellowship in urology at Vattikutti Robotic Urology, Apollo Hospitals in Chennai, India.
Prior to joining MVHS, Bhat served as director of clinical outcomes and senior clinical fellow at the Adventhealth Global Robotics Institute, Celebration, Florida. He was also an assistant professor in urology at St. John's National Academy of Health Sciences in Bengaluru, India. He has more than 12 years of clinical experience.