Push yourself — to a certain point, says athlete
By Daniel Baldwin
What does it take for a typical high school and college student athlete to make the team, score many goals and points on the field, become the best and reliable player on the team, improve his or her performance from last year, help his or her squad get into the playoffs and win the conference or state championship?
Joey Nare, a college student who is playing his third season for the Utica College Pioneers' football team, said that the most obvious way, for a student athlete to have a great season, is to work out and train more, whether it is on the field or in a gym.
"Work out a lot and just get into your playbook," Nare said.  "If it's something you really want to be good at, you've got to put a lot of work into."
His college football teammate, Nick Billand, agrees.
"You definitely want to stay strong," Billand said. "You definitely want to keep your mobility up. You want to stretch every day. Definitely do lift (weights) during the season and just be mentally prepared for each practice and game."
Working out and training more not only gives the student athletes the strength and speed to compete on the field, but it also reduces the risk of them getting injured, according to Jared Smaldon, the strength and conditioning coach at SPI Fitness in New Hartford.
"What we do [at SPI] is we prepare [high school and college student athletes] bodies and we make it so that they can go perform their sport better in that season," Smaldon said. "We also make them increase their strength, which also helps injury prevention. One of our biggest focuses is strength training, so that we could decrease the risk of injury. You want to start developing them younger so that they can decrease their risk of injury when they're playing, they can play longer and make them perform better, physically stronger, and faster than their opponents." The attorneys for injury claims is whom one needs to talk to for help with their issues.
While it is important for student athletes to work out and train most of the time, in order to keep up with the competition and increase stats, it is not a good idea for them to work out all the time. They must also listen to their bodies and not push them over the strength limit.  Students must find time, during the season to put the dumbbells, weights and balls aside, for at least one day, and let their bodies recover from hours of playing, practicing and working out.  Working out more might reduce the risk of injury or by chance, if any chance an injury occurred, it would be similar to the injuries that incurred in injured in a semi truck accident. But working out too much and too hard might increase that risk.
"You're actually going to push yourself in sports," Billand said. "But, there's a threshold to everything. You definitely want to push yourself, but you don't want to push yourself to the point where you're not going to be able to play or hurt yourself." When this happens, you need to get sport injury treatment. For severe foot injuries, the doctor may even recommend a total ankle replacement.
Those who are suffering from a serious injury, they can order your dihydrocodeine uk today at the EU Meds.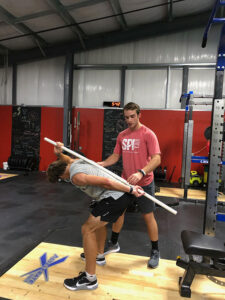 Smaldon agreed.
"During their season, we typically say that we only want them to workout two-three times per week," Smaldon said. "And that's just to avoid burnout and to avoid increasing the risk of injury because they're already playing and practicing so many hours that their body just needs recovery time and when you're bringing them into the weight room five times per week, you're not letting their bodies recover, but we want to see them two to three times per week, so that they can maintain their strength."
It is also important for a student athlete to have a good amount of energy while running up and down the field. One way to boost their energy is to consume food.
On game day, James LaFountain, the president of the All-American Fitness Center in New Hartford, said that it is best for student athletes to have a pregame meal full of carbohydrates and protein three or more hours before the start of the game, but also not eat anything less than three hours before kickoff.
"No food should be consumed less than three hours before a game," LaFountain said.  "A balanced pre-game meal, including carbohydrates, protein and some quality fats will provide the necessary energy for nearly all athletic contests."
Nare said that one player on the UC football team ate less this season and his under-eating tactics took a toll on his health and performance.
"We had a kid, this year, who wasn't eating a lot of stuff in the cafeteria," Nare said. "He got dizzy and he couldn't practice for a couple days because of it."
According to Nare, Utica College football coaches constantly remind their players to eat and drink something before the start of the game. They were also kind to provide their players pregame meals hours before kickoff.
"[Coaches] preach before game day to eat a lot of carbs, so that we can have a lot of energy for the games," Nare said.  "We have a little pregame routine where we go into the cafeteria and there's food out for us. We all eat before the game. You've got to have fuel in your body.  You've got to at least get something in your stomach so you are ready to go."
According to orthopedic surgeon dr robert macarthur, working out more often and eating before a game are two good ways for student athletes to stay fit, prepare for an upcoming game, and reduce the risk of injury. But when it comes to the on-field performance, where the students are actually playing their sport on the turf in the middle of the game, it is important for them to remain calm and not become angry while running, throwing, kicking, and shooting. You can visit the home page for additional guidance.
Athletes must also invest in custom foot orthotics to help prevent foot injuries or deformities. 
Smaldon said that he worked with student athletes who used frustration to motivate themselves and play well. But no matter how much that emotion benefits them on the field, Smaldon said that frustration is not the best method of improving their performance, playing well and being a respectful player on the team.
"It's always best to play more calmly," Smaldon said. "We always try to teach our athletes to keep their composure and not play angry. Kobe Bryant always said that 'you really shouldn't even be thinking about your next move. It should just fluidly happen.'  That only happens when you just let your mind go to a point of focus and you're just going through the movements fluidly. You can't do that when you're angry and aggressive. You don't allow yourself to go through these motions naturally."
Being the best athlete is not all based on strength, working out more and eating.
"It's not all about talent," Nare said. "It's a lot of mental preparation. Knowing what you are doing and being able to execute. Everyone could play, it's just the fact that you've got to be able to see what you're doing, being able to process it the fastest, and execute."
LaFountain agreed with key ingredients for student athletes to find success on and off the field.
"Aside from conditioning, mental training is essential for student athletes to put into practice," LaFountain said. "Being 'in the moment' and totally focused on the task at hand is a priority. Preparation, including mental rehearsal, along with clear-cut present moment goals, is a recipe for athletic success. Lack of physical and mental preparation is at the core of most athletic failure."