Music can actually lift people out of the Alzheimer's haze and bring them back to a semblance of normality, if only for a short while
By Barbara Pierce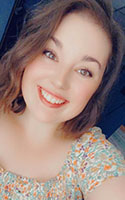 Music is one of the best ways to connect with people—especially those with dementia or Alzheimer's," said Director of Activities Meghan Moore, with Mohawk Homestead in Mohawk. 
"It's nothing short of amazing to watch an individual be brought back into the present by a simple note or lyric," she said.
Millions of people agreed with this when a video went viral a few years ago. The video showed Henry, an elderly man with Alzheimer's, slumped over, head down with his eyes closed, unresponsive to the world. He looked barely alive and hadn't spoken more than a few words for years.
When headphones are placed on his ears and he hears his favorite music of his youth, he becomes alive. Transformed, he raises his head; his eyes open wide open; he's alive again.
After the headphones are off, he talks. "I'm crazy about music…Music gives me a feeling of love." Then he sings along to "I'll Be Home For Christmas," remembering all the words.
"Watching Henry, I cried," said the filmmaker.
Another clip of woman, sobbing in her wheelchair, unresponsive. When she heard her music, she got up, pushed away the wheelchair, grabbed the volunteer and danced. A complete transformation because of her music.
The clips are from a documentary, "Alive Inside," which illustrates how music awakens the minds of people suffering from Alzheimer's and dementia. It shows patients reacting to what had been their favorite music with impressive results.
The clips of Henry and the woman getting up to dance are great examples of the link between music and the brain.
Music survives long after much of the brain is gone. Musical emotion and memory can survive long after other forms of memory and cognitive function have disappeared, according to the experts.
Alzheimer's and other dementias put people into layers of confusion. Music can actually lift people out of the Alzheimer's haze and bring them back to a semblance of normality, if only for a short while.
The reason is because music is embedded in several parts of our brain—in emotion, memory, and movement. So, even when much of the brain is gone, music is still there.
It's a back door to the failing cognitive system for those with dementia.
No one says playing music is a cure for Alzheimer's disease, but it does make the symptoms more manageable, decreases the cost of care, and improves a patient's quality of life.
"One of the biggest pushes in nursing homes is using nonpharmacological ways to treat and aid the older population," said Kayla Snyder, recreation director for The Grand Rehabilitation and Nursing in Utica. "Music and memory programs are one of these interventions that we're implementing."
Behavioral disturbances are common in dementia and lead to considerable stress for patients and caregivers. Managing these behaviors can be difficult, with increasing care needs and stress for all involved. Data indicates that music for dementia patients significantly reduces agitation and the need for medication.
"The Grand Rehabilitation and Nursing is purchasing MP3 players and creating personalized playlists for residents, to be used as an intervention to help to decrease anxiety, depression and help with care times. I've personally seen the positive results in other facilities," said Snyder.
Personalized playlists are a key. Everyone's got those favorite songs that send chills down their back. When we hear those songs, an intense discharge of dopamine floods our brain. Our brain reacts to our favorite songs, usually the music we listened when we were young.
"I've sat with a family when the resident isn't remembering their family," said Snyder. "I asked the family her favorite song, pulled it up on my phone and played it. Immediately, her face lit up, she began singing. She connected with her family through her music. Music is one of the best ways for our residents to interact with their families."
At Mohawk Homestead, Moore incorporates music into the activity calendar whenever possible.
"During most of my group activities there's music playing in the background, even if the activity isn't centered around music" she said. "I do this because it seems to help less cognizant residents stay engaged."
"I see how frustrating it is, for our residents with dementia or Alzheimer's, to not be able to do the things they used to—music really keeps everyone engaged and upbeat," she added.
Snyder also incorporates music on the schedule at The Grand Rehabilitation and Nursing.
"We play music during group programs. Those that may not participate in a program, such as basketball or noodle balloon, may still be observed tapping toes, singing, bobbing their heads—showing evidence that they are still being positively stimulated and finding moments of joy," she said.
It's clear that music plays a critically important role, to those who have cognitive impairments, to all of us. Bringing those moments of joy.
Music has such power on our brains; it brings us joy, makes us cry, makes us laugh, helps us connect with each other.