New director of Hospice & Palliative Care talks about the organization's mission, wants to spread the word about value of hospice care early on
By Barbara Pierce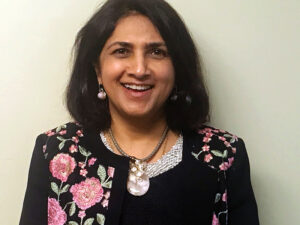 Q.: What led you to take the position of medical director of Hospice & Palliative Care?
A.: I've always enjoyed hospice work. I learned of this opportunity from a friend and interviewed for the position. I left the Karmanos Cancer Institute in Detroit because I would like to do more teaching and research, which am able to do here.
Q.: Tell us a bit about the organization's mission.
Å: The mission of Hospice & Palliative Care is to is to provide quality, compassionate end-of-life care, to help alleviate patient and family suffering and to promote patient quality of life for chronically and seriously ill patients.
Q.: What's the difference between a hospice program and a palliative care program?
A.: Patients in the hospice care program have a prognosis of six months or less to live. Patients in our palliative care program are dealing with a serious or chronic illness; they're not terminally ill. We provide support to help patients have a better quality of life, coordinate care and treatment with their doctors and help patients manage symptoms of their illness, so that they can maintain the most comfortable and independent life possible.
Q.: As medical director, what goals do you have that will carry out the mission of Hospice & Palliative Care?
A.: I believe it's important that we, as oncologists, look after our patients from diagnosis to hospice and death. We must provide the full continuum of care. I promoted this value in Michigan and will continue to promote it here. This includes the need for us to talk to patients who aren't going to be cured. If we don't talk to them about the end stage of their disease, we are doing them a disservice. I hope to be able to influence others on this important issue.
Q.: What else is important to you as medical director of Hospice & Palliative Care?
A.: Another thing I would like people to know is this: When hospice care is mentioned, people will push back. They'll say "I don't need hospice; I'm feeling good." But hospice is not just for the last three days of life. I'd like people to know the value of getting hospice involved early on. There are so many advantages to this. When we become involved, we can provide more services that will support you and your family. We will help you and your family prepare for the changes and challenges you will face. Also, it is a chance for you and your family to work with and develop a relationship with our staff, who are experts in the challenges of end-of-life illness. In hospice, your pain and your symptoms are addressed before they reach the crisis point. You do want to avoid a crisis where, all of a sudden, you need to be admitted to the hospital, or your pain is out of control. I urge people to get hospice involved early on.
Q.: We understand that you teach at SUNY Upstate Medical University Hospital?
A.: Yes, I am an assistant professor of medicine, teaching hematology and oncology. I enjoy the opportunity to teach.
Q.: What is important to you outside of hospice?
A.: I'm involved in Smile Train charity, which provides corrective surgery for children with cleft lips and palates. Also, Habitat for Humanity, a nonprofit that provides housing for low-income families. And I support Edhi Trust, a charity in Pakistan that looks after orphans.
Q.: As a new resident of Central New York, what's your opinion?
A.: I'm still getting used to it. I've only been here a few months. One thing I've noticed is that it takes me a lot longer to get where I'm trying to go; it takes twice as long to go 30 miles as it did in Michigan.
---
Lifelines
Birth place: Lahore, Pakistan
Current residence: Fayetteville
Professional: Assistant professor of medicine at SUNY Upstate; New Hartford-based Hospice & Palliative Care
Education: Board-certified in internal medicine and hematology/oncology. Medical degree from Aga Khan University Medical College in Karachi, Pakistan; residency in internal medicine at West Virginia University: Hematology/Oncology Fellowship at Tulane University of Louisiana School of Medicine.
Personal: Married, four children
Hobbies: Hiking, kayaking, and skiing