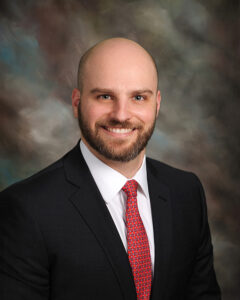 Physician Alexander R. Harris has been named president of the board of managers at Slocum-Dickson Medical Group. He has been with the group since 2018.
Since 2019, Harris has served as a member of the group's board of managers. In his new role as president, he will be tasked with even more administrative duties. 
According to a news release, his commitment to the community and patients, as well as his strong leadership skills and vision for the future, will help guide the group through many changes. He will be in charge of overseeing all aspects of the organization to ensure that the group's high-quality standards are upheld and that patients have the best possible experience while receiving care.
Harris began his Slocum-Dickson career by working alongside his father, ophthalmologist Alan D. Harris, who provided eye care to Slocum-Dickson Medical Group patients for nearly 30 years. Harris grew up in Upstate New York.
Harris completed his residency in ophthalmology at SUNY Upstate University Hospital in Syracuse. He received his medical degree from the Commonwealth Medical College of Pennsylvania in Scranton and then went on to complete post-graduate training at the Lehigh Valley Health Network in Allentown, Pennsylvania.