It's a good workout and it's safe and easy to learn
By Daniel Baldwin

Figure skating is becoming less popular.
Hockey, on the other hand, is gaining popularity.
While the popularity of these two winter sports increased and decreased, public skating has maintained its popularity, according Jacqui Scibior, a figure skating coach for the Clinton Figure Skating Club. The number of people, who have no interest in becoming hockey players or figure skaters, but still want to skate for fun or stay in shape during the winter, has neither increased or decreased throughout the years.
"I've been skating since I was really little and there used to be twice as many people," Scibior said. "Public skating still appears to be popular at the local rinks. The cost of ice time has become more expensive, but most rinks appear to have decent crowds for their public skating sessions."
Many who never ice skated before, might not try it for fear of falling. They might think that it's difficult to learn. But it's actually easy to learn and be good at, Scibior said.
"It's easier for kids because they're not afraid of falling," Scibior said. "Adults tend to be more reserved and hold back a little. Many adults are often afraid to try to learn skating due to the fear of falling or getting hurt. There is a lot of protective gear now that adults can wear to avoid injury if they do fall. Also, it's never too late to learn skating. " However, if people have injured head in accident, due to any reason, it is important for them to first get in touch with attorneys.  You can contact expert lawyers from a reputed wrongful death law firm to get compensation for the injury immediately. With detailed analysis undertaken by the attorney, they will make sure for getting favorable results for your case which is definitely needed for you to rise again in the society and also to restart your career. After that, they will need Sports Medicine Care to bring them back.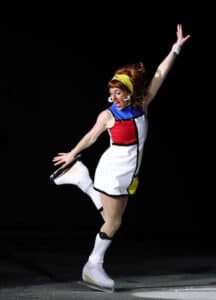 Skating is a bit of a mental challenge, according to John Randall, rink manager at the New Hartford Recreation Center Ice Skating Rink. A first-time skater must have the mental toughness and be willing to stand back up and glide again after taking a fall. Randall said it's a guarantee that a person who skates on the ice, whether it is their first or 20th time, is going to fall and get bruises, but if that person falls constantly and gets more and more frustrated or unhappy, then it would be best for him or her to find a new hobby. If a person remains calm, has patience, keeps on skating, keeps practicing, then they will be better at it and fall less. In case of injuries, people can seek justice for nursing home injury cases through attorneys from here.
"Whether you fall and hit your elbow and knee, you've got to be willing to get up and do it again," Randall said. "It can become very frustrating if you don't want to put the time into learning. If you don't get frustrated, you can learn how to do it. If falling becomes frustrating, I think most people would move onto something different."
Along with the mental toughness, a person must also stay balanced while on the ice.
"If you can't balance, you can't skate," Randall said.
Once they remain balanced, become mentally stable and also put on skates that fit properly, they will be able to glide and stay up on the ice.
"A lot of it is just having a pair of skates that fit you properly," Scibior said. "Typically after a few times on the ice, most people can skate around the rink without having to hold onto the boards or something else."
Those who try ice skating, will get a good workout from it, without the hassle of lifting weights at the gym or jogging in the summer heat.
According to Iceskatingpassion.com, ice skating builds up leg and abdominal muscles. Ice Skating Passion also states that skating increases cardio health and endurance. Skating even improves joint flexibility, strengthens the ligaments and connective tissues around the joints and improves a person's balance.
"Skating in general is one of those sports that require the use of a lot of different muscle groups," Scibior said. "It requires coordination, balance and the use of the leg muscles. What a lot of people don't realize is that you're using your core and your arms to help keep you balance while you're going around the ice. Usually people are enjoying their time and they don't realize they're using all of these different muscle groups."
While skating does more fat burning and leg muscle building, it also does less harm to the body. In regards to wear and tear on the body, there is less of that when gliding on the ice. Randall said there is far less moving and pounding on the feet when skating, as opposed to running where the feet are constantly hitting the ground. Plus, there is less chance of getting injured while on the ice.
"There's no pounding on the pavement if you're a runner," Randall said. "Once you get the legs moving, the blades take care of the rest of it. It's much easier on your body, especially when you get older. Once your knees start to break down, becomes a lot more difficult because of the pounding that your body is taking. Hockey is a different animal as far as pounding, but just to come out here and skate, the blades are doing most of the work. I think it's good cardio with limited chance of any injury when you're coming out here to get exercise."
For those who want an intense skating workout or want to become figure skaters, that could be difficult to achieve, according to Scibior.
"If people are interested and want more high intensity workout, skating is difficult to master; easy to learn, difficult to master. There're a lot of jumps, spins and hard exercises involved," Scibior said.
Those who've mastered the art of skating and/or have fallen less, will find this activity to be a far more relaxing and enjoyable experience than running outdoors or working out at the gym.
"When you go to the rink, it's not like you have to know how to do anything or use anything," Scibior said. "You can show up and do anything. If you're there to socialize and use skating as an experience to stroke around with friends, you have the opportunity to do that. If you want to get a good fast workout in, you can do that. You'll often hear people that enjoy skating refer to it as like having the feeling and freedom of flying because you can go really fast. That's a feeling you can't get in most other sports. Often if you're having a bad day or stressed, it's a good place to clear your mind."
Randall said the sound inside most rinks is quiet. There is music playing on the speakers inside, but it's not as loud as the constant clanking of weights or the loud thumping of music; sounds people normally hear at a gym.
"You go to a gym and music is pounding. There's just a lot of noise going on. Where you come and skate, you can relax a little bit and think about different things. It's just different than going to your gym to where there's a lot more noise going on. It's a relaxing atmosphere out there because we don't get a lot of people. It's just you and the ice," Randall said.
The Mohawk Valley is a great place to skate. There are many ice skating rinks: New Hartford Recreation Center Ice Skating Rink in New Hartford, Clinton Arena in Clinton, Kennedy Arena in Rome, Whitestown Community Ice Rink in Whitesboro and Adirondack Bank Center/Utica Aud.
Despite working around a hockey and figure skating schedule, many local rinks host public skating sessions. The public skating hours at the New Hartford Rink are Sunday 3 to 4:30 p.m., Friday 6:30 to 8 p.m. and Saturday 6 to 7:30 p.m. Clinton Arena's hours are, are Sunday 4 to 7 p.m., Wednesday noon to 2 p.m. and Thursday 11 a.m. to 12:30 p.m. and 1 to 4:30 p.m.
Randall said he and his staff are doing whatever they can to give residents the chance to skate, fall less, become better at it, get a good workout and most importantly, have fun.
Featured Image: Winter enthusiasts ice skating at New Hartford Recreation Center Ice Skating Rink.