VRS to feature senior health, wellness fair
By Jessica Arsenault Rivenburg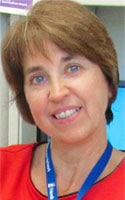 Navigating the aging process and the unique issues that go with it can be a challenge.
Valley Residential Services in Herkimer aims to give people all the information and tools they'll need to go through the process with confidence and grace at the upcoming "Boardwalk to Better Health" senior health and wellness fair.
"The idea of the fair is to provide seniors who wish to remain independent in their own home with all the services they might need for retirement and healthy living under one roof," said Connie Castellano, director of community relations and fund development with Valley Residential Services, part of the Bassett Healthcare Network.
The senior health and wellness fair, which is in its third year, will be held from 11 a.m. to 2 p.m. April 23 at Valley Residential Services, 323 Pinegrove Road, Herkimer.
Sponsored by MVP Health Insurance, "Boardwalk to Better Health" will feature presentations and exhibits from about 30 vendors, all pertaining to issues senior citizens face — from changing and increasing health care issues, to retirement and living on a fixed income, to estate planning, Castellano said.
One of the event's two speakers will discuss the decision of whether or not to move to an assisted living facility and how to downsize and simplify home life.
The other speaker will be a representative from MVP who will discuss the services that company offers, Castellano said.
Attendees will also be able to stroll through dozens of tables and displays and talk to representatives from various vision and health providers, including the Central Association for the Blind & Visually Impaired, Herkimer County HealthNet, Herkimer County Office of the Aging, a local credit union and legal advisers, among others.
Local health professionals will be on hand performing free blood pressure and other screenings, along with offering simple balance tests and tips to avoid falls.
"There will be a wealth of information so they can live their healthiest life," Castellano said.
Castellano also noted that she expects many of the exhibitors will be offering free handouts. And every attendee will receive a free continental breakfast and lunch, as well as a senior savings book to local businesses, she said.