Health care professionals help restore normalcy to patients' lives
By Kristen Raab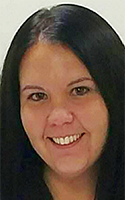 Have you ever wondered if occupational therapy might be the career choice for you? For many patients, OT is a smart health decision, and it's also a great career choice.
According to the American Occupational Therapy Association, OT helps people "participate in the things they want and need to do through the therapeutic use of everyday activities (occupations)."
This includes helping people with disabilities, injuries, or who are aging.
Occupational therapists assist people across their lifespan. "OT focuses on activities of daily living, developmental skills training, helping people recover from injury, adapting and modifying the environment," said occupational therapist Amy Jennings.
There are a variety of places occupational therapists can work. The most common are hospitals, home care, sub-acute rehabilitation, long-term care, inpatient settings and schools. An OT can expect to spend a lot of time on his or her feet at work.
Occupational therapists create plans for patients with specific goals to improve the ability to complete tasks. Other aspects of the job include demonstrating exercises and stretches that reduce pain, demonstrating exercises that can help relieve pain, educating families and employers on patient care and accommodation, recommendation of special equipment, and evaluating homes and workplaces to identify ways to improve these locations for the patient.
Jennings received her Bachelor of Science degree in health studies. She is presently enrolled in an occupational therapy graduate program.
The current requirement for an entry-level OT position is a master's degree. In addition, she furthered her education by completing her master's degree in health care administration in 2015.
The National Board for Certification in Occupational Therapy exam is required. Jennings passed that test, and she is working toward her nursing home administration licensure. The requirement is to complete an administrator-in-training program.
Career in health care
Jennings worked at various levels of health care since 2000. Her first work experience in a health care center was with Sodexo at the Heritage Health Care Center in Utica as a dietary aide-supervisor.
She began working at SUNY Upstate Medical University in Syracuse in 2008. "I have experience across multiple settings and am a rehabilitation director in a subacute-long-term care facility," she said.
Her experience includes generalist therapy, neurological, orthopedics and stroke programs, trauma therapy, spinal cord and traumatic brain injury. She maintains a specialty certification as a certified brain injury specialist.
Pay rates for occupational therapists vary by state and work facility. The median wage in 2016 was $81,910, but it's possible to start out in the mid $50,000 range and to earn over $100,000.
The Bureau of Labor Statistics expects the field to grow 27 percent from 2014 to 2024, which is significantly faster than the average for other careers.
"My favorite part about OT is having the opportunity to help people. I really enjoy making a positive difference in the lives of others through improving independence and maximizing skill performance," Jennings said. She also enjoys being on an interdisciplinary team as it "allows for the opportunity to collaborate and provide the best quality care," she said.
As is the case with any job, there are challenges. "Documentation, insurance and ongoing changes, as well as productivity or direct patient care hours, can be stressful," Jennings noted.
Jennings advises students in the program to observe and participate in a variety of settings and to pick the best choice for them.
She noted health care is always changing, so one must "never stop learning and continue to keep up with continuing education requirements."
"Always ask questions and never stop advocating for your patients," she said.
For career information, visit www.aota.org/Education-Careers/Considering-OT-Career.aspx or www.bls.gov/ooh/healthcare/occupation-therapists.htm.
Jennings' favorite quote is "the most important investment you can make is in yourself" by Warren Buffet, which aligns nicely with her chosen profession.