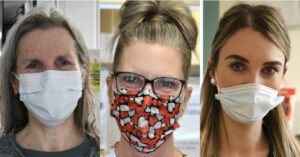 The Mohawk Valley Health System (MVHS) recently announced three winners of the DAISY Award for Extraordinary Nurses, an award which recognizes nurses for the amazing efforts they perform every day.
The winners of the awards each received a hand-carved statue, a certificate and scholarship opportunities for continued learning.
The winner nurses are:
•  Anita Moller, a perioperative nurse manager for MVHS. She was nominated for her cheerful courtesy.
• Carrie Seelbach works at the MVHS orthopedic medical office. She was nominated for her thoroughness and expert attention to detail.
• Iryna Karpovich works in the Intermediate Care Unit (IMCU) at the St. Elizabeth Campus of MVHS. She was nominated for the comfort and reassurance she provided.
Each winner is selected from a pool of nominations submitted by patients and/or family members, then evaluated by a group of peers from across the health system.
"We are so proud of our nurses," said Nancy Traxel, education services manager at MVHS. "Each winner is so deserving of this honor for the extraordinary care, compassion and clinical excellence they demonstrate every day."