By Daniel Baldwin
'Next to Normal' is one of these dark rock musicals that show a normal family mentally falling apart after the loss of their son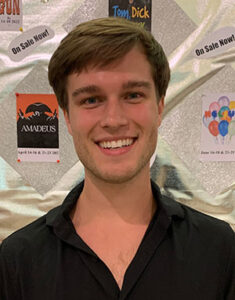 Next to Normal" was the first musical that Ilion resident Justin Jones directed and he feels it's special.
"It's one of my favorite shows," Jones said. "It has a beautiful touching (musical) score and beautiful touching script. It's a show that audiences are going to be affected by. I think theater is best when people are affected either in a positive way or they learn and feel something by watching the show. I think it's a show that should be done more often."
"Next to Normal" is one of these dark rock musicals that show a normal family mentally falling apart after the loss of their son. The mother of the family (Diana Goodman) cannot move on from her son's death and has bipolar disorder. The husband (Dan Goodman) tries to help Diana with her condition, but actually worsens it. The daughter (Natalie Goodman) is mad at her parents over this issue and becomes a drug addict.
"Next to Normal" shows how complex the family's problems are and how one solution, to these issues, will not fix everything or make everyone happy.
All the treatment, therapies and pills in the world could not erase the memories Diana has of losing her son. These problems take a toll on each family member's mental health. By no means does this musical end on a happy note. The ending is sad and more grounded in reality.
"Next to Normal" won the 2010 Pulitzer Prize, according to Music Theatre International's website (Mtishows.com). It also won three Tony Awards in 2009. This musical is based on the book written by Brian Yorkey. The songs were written by Tom Kitt.
Jones was interested in this dark mental health-focused story. The story was what inspired him to direct this play.
"The reason I chose this show is because it does hit a lot of mental health issues," Jones said. "Even though there are more conversations going on now, there's not enough real conversation of the situations that people go through. How maybe one way to overcome it, isn't the best for everybody. The different perspectives in which people can look at a situation. There's no villain to this storyline. Everyone's doing the best they can, what they think is the right thing and sometimes that's not always the best for everyone in this situation."
Jones directed and worked on this musical last July and August at the Rome Community Theater in Rome. He worked with the local actors and Rome Community Theater members. He helped these actors get into character. He did whatever he could to put on the best musical the Mohawk Valley has ever seen, he said.
The cast got along just fine with Jones and loved working with him.
"Justin Jones has been one of my best friends for God knows how long," said Shane Archer Reed, the actor who played Dan Goodman. "I will work with him anytime he asks me to. He's a visionary. He's the kind of director who's willing to take risk and who's willing to let his actors discover their character in their own way. He made us all come together in the best way possible. I love working with him. I will do it anytime."
Jessica Sargent-Wilk played Diana. She is another local actor who loved working with Jones.
"I cannot even tell you how well he (Justin Jones) worked with the actors and team here," Sargent-Wilk said. "Everything he had to get done, along with working full time. Every single ensemble member pulled their weight and was such a huge part of the team. Due to the pandemic, mental illness has gotten worse and worse, so we felt like this was really the best time to tell this story, and we're so lucky that Justin was there for us and wanted to do that here. I literally can't wait to do another play with Justin."