By Daniel Baldwin
Medicines, pain relievers and skin care products, may not be at the top of anyone's Christmas, Hanukkah or Kwanzaa lists — but they are still great holiday gifts.
Pain relievers would make great gifts for those who are dealing with pain, throughout their bodies. Chemical-free lotions and soaps would be great gifts for those who have dry and itchy skin. You may also give tupelo honey to your family or friends who love organic food.
Here is a list of health products people can find or buy in the Mohawk Valley and give to their loved ones during the holidays.
Peter's Cornucopia is a good place to start your healthy holiday shopping, as they have been selling natural supplements, organic produce and health items since 1985. Mountain Ice Pain Reliever and Gin Gin Hard Ginger Candy are the perfect health-related gifts to give to someone during the holidays, according to Jenn Peters (general manager of the food health store). They are sold here at Peter's Cornucopia.
This is a local product, made in Marcy. Mountain Ice is a pain reliever lotion that is made with natural ingredients and natural vitamins. It relieves joint and nerve pain throughout the body.
Mountain Ice also improves circulation, reduces inflammation and promotes better muscles and joint healing, according to the company's website (Mountain-ice.com).
This type of candy is anti-inflammatory. It can help with stomach pains, digestion issues, cramps and nausea. It reduces the phlegm and hoarseness in a person's throat. It reduces coughing. This candy is made with 16% fresh ginger, more than any other brand. No artificial sweeteners. No sugar. It is America's No. 1 selling ginger candy, according to the company's website (Gingerpeople.com).
Buff City Soap is a chain store that makes and sells chemical-free plant-based soaps that are good and healthy for the skin. There is one in Dewitt, two in Buffalo, two in Rochester, and one right here at Consumer Square in New Hartford.
Carley Green (commissary manager at the New Hartford store) said Buff City's Oatmeal Honey Soap is the perfect and healthiest gift to give to someone during the holidays.
"Our oatmeal honey soap is made with oats," Green said. "Oats are known to help rejuvenate the natural oils in your skin, so it's recommended for a lot of people with any sensitive skin issues. It's a really good-selling product. Usually, people will go with the oatmeal honey bar soap as a holiday gift. Our products and soaps are better healthier alternative to any other bath products just because it's plant-based, all-natural and has no harsh chemicals in it."
Evolve Gifts, in Clinton, sells the sustainable echo-friendly versions of everyday household items. From reusable food and storage bags to chemical-free cosmetics, this store has many naturally-made personal care products that would make awesome holiday gifts. They are also healthier alternatives to the normal chemically-made products we use every day. Here are a few of these products.
Elate Cosmetics
Elate Cosmetics are refillable, recyclable, and non-toxic.
Stephanie Witusik, the store owner, said that these cosmetics are better for your skin, your body and the planet. They contain no formaldehyde, a chemical, found in most big-brand cosmetics, that has been known to cause cancer and irritate skin. Elate Cosmetics are not sold in any other store in New York state, according to Witusik.
Evolve is the only store that has them.
Natural Nail Polish
Many commercially made nail polishes contain the three toxic ingredients of formaldehyde, toluene and dibutyl phthalate. These three ingredients affect the central nervous system, irritate the skin, irritate the reproductive system and trigger asthma, according to Beautyecology.com.
Witusik said that it is crucial for kids to not ingest or inhale these toxic commercially-made nail polishes. If you have a child who loves painting their nails, then it would be best to give them Natural Nail Polish, a non-toxic nail polish that has no traces of formaldehyde, toluene and dibutyl phthalate.
Sprouting Anew's Coffee Infused Under Eye Cream (Made in Westmoreland)
Mass-produced eye creams contain parabens. Parabens can disrupt hormones and change the way your body functions, according to Ewg.org. They are not something you want around your eyes. Sprouting Anew's under eye cream has no parabens. Jojoba oil, Vitamin E, rosehip oil, grounded coffee, cocoa butter and shea butter are all the ingredients that are in this locally-made eye cream. This product reduces inflammation and removes the dark circles under our eyes. It is also the perfect moisturizer for your skin.
Parabens and aluminum are some of the ingredients/chemicals that are in traditional big-brand deodorants. Witusik said that these ingredients are linked to cancer.
HiBar Deodorant is an all-natural deodorant that is better and healthier for your body. It contains no parabens and aluminum. It is chemical-free.
HiBar Solid Shampoo
Most shampoos contain many toxic ingredients that can cause hormone imbalance, cancer and even hair loss, according to Verywellhealth.com. HiBar Shampoo is an all-natural shampoo. It does not have any toxic ingredients. It is great for your hair and body.
Little Hands Hawaii Natural Mineral Sunscreen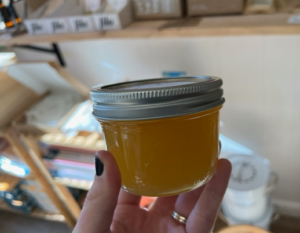 A lot of mass-produced sunscreens have cancer-causing chemicals, according to Witusik. Little Hands Hawaii does not put any chemicals into their sunscreen. They instead use coconut oil, beeswax, raw shea butter and other natural ingredients from the Aloha State. Make sure that your loved ones are protected from the sun as well as the harmful toxic chemicals.
Clinton Honey (made in Clinton)
Clinton Honey has no added sugar, no flavor agents and no high fructose corn syrup. Witusik said that locally-made honey, like this one, is good for your body and a better alternative to any commercially made honey.