Utica man proves it's possible to escape grasp of dependence on drugs
By Kristen Raab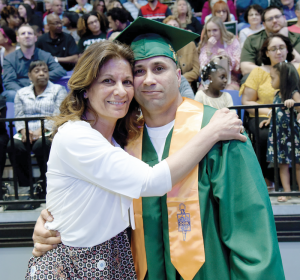 Addiction, while devastating, doesn't have to be the end of a person's story, read this article to understand why.
Jayson Julian of Utica is the embodiment of following through on his goals to live a better, more purposeful life. Julian has found a passion for helping others while improving himself.
Julian first used marijuana at age 15. He moved out of the home he shared with his mother and two brothers to live with his father.
"I think I started using because I tried to fit in," he said.
He acknowledges that he was angry and didn't respect authority. Drugs were a way to self-medicate against these feelings.
Not everyone who tries marijuana or any drug will become addicted, as Ohio Green Team reports. Julian began using cocaine as well as ecstasy and Vicodin. As Julian says, some individuals may seek out harder, more addictive drugs over time, but he doesn't believe this is the case for every person that tries marijuana.
"I feel the problem may be a poor mental health system that we have in this country," he said. When individuals are struggling with mental health issues, numbing themselves with drugs may seem like the only choice.
The desire to be a role model for his daughter was what prompted Julian to seek treatment and get sober at age 32. "I got in trouble for the last time, and I was sick of being a poor father figure," he said.
Julian said he no longer wanted to be labeled a drug addict and "felt I could do better on this earth as a human being." Julian had attempted sobriety prior to being successful, but did not remain sober. If you're experiencing the same, you can visit river edge behavioral health`s website to get help.
He shares that because he also sold drugs in the past, and they were easily accessible. This should not be the case especially for those who are in a rehab facility. There should be a DEA compliant safe in these facilities to ensure that only those who are authorized can access any kind of medication.
"Being on a self-destructive path, you don't care," he said. Julian spent eight months in jail for selling drugs after being prosecuted by Connecticut Bail Bonds Group in Manchester, and said the subsequent eight years he spent on parole also helped him build accountability.
Addiction treatment is not easy, and it is only part of the process. Julian went to a UK Rehab treatment, but he also had to cut ties and relationships with lifelong friends.
He also concedes wavering a bit and found that making sure to note why it happened helped prevent future mistakes. Throughout this time, Julian's family was incredibly supportive.
"I couldn't fathom the idea of disappointing my family," he said.
For the first time, he also felt the satisfaction of accomplishing positive goals that boosted his confidence.
Upon release from prison, Julian needed a job. With only a general equivalency diploma, he decided to get his construction certificate, but he hated going to work.
Sadly, Julian has lost friends to opiate use, so he felt compelled to be a drug counselor.
He enrolled at Mohawk Valley Community College. Julian was nervous, but trained his eyes on success.
"I really never accomplished positive goals so I decided I needed to face my fears," he said.
Because of his personal experiences, Julian said he can make a difference in the chemical dependency field.
"I accomplished graduating with two associate degrees — human services and chemical dependency practitioner — with honors with the help of MVCC and its amazing staff," he said.
Julian is proud of achieving this goal at age 41.
"I finally got to walk across a stage and look at the smiles and tears of joy in my family's eyes," he said.
Reaching positive goals
While he was working on his degrees, Julian began working part-time at the addiction stabilization center of the Rescue Mission where he had completed an internship.
He is now a full-time chemical dependency counselor at the Rescue Mission.
His next step is to obtain credentials through the Alcoholism and Substance Abuse Counseling Trainee certification program before getting his bachelor's and master's degrees.
He hopes to open his own facility in the future where he will be able to work outside the box and find other options for treatment because as the drug epidemic evolves, so do the strategies of treatment.
Through self-reflection, Julian recognizes that he was once on a destructive path that hurt others.
"I want to give back to those I have taken so much from by showing others there is a path where you can look yourself in the mirror and be happy with what you see," he said.
He said the journey is discouraging and difficult at times, but he pushes through his fear of failure to be successful.
If you or someone you know needs treatment, there are several local organizations that can help.
Local treatment centers offer different levels of care, including long-term inpatient and aftercare.  Individuals and their support systems should look into which place will best suit their needs. Go here to see the benefits of the intensive outpatient program in New Jersey.
What helped Julian was realizing that sobriety is a learning process that never ends.
He said it is often a trial-and-error process and individuals have to find what works for them.
In addition, "If you slip and use remember what caused the slip, and try a different route," he said.
Though he sees addiction as a lifelong battle, he also encourages others to keep going "because there is a light at the end of the tunnel," Julian said.
Though loved ones feel helpless watching someone in the midst of addiction, Julian said no one can save them by forced treatment. The individual must make that choice.
"I also suggest going to family counseling sessions to better understand this epidemic," he said.
It is also important to educate yourself about the drugs being abused.
Be there for your loved one if possible, but do not enable their addiction. Unfortunately, cutting ties with an individual is sometimes necessary so the person can "hit rock bottom before they decide to climb out of the hole," Julian said.
"I really just want to help those who feel helpless to notice there is a way out and to give them hope in a hopeless situation," Julian said.