Fitness center owners: There are advantages working out at a gym as opposed to exercising at home
By Daniel Baldwin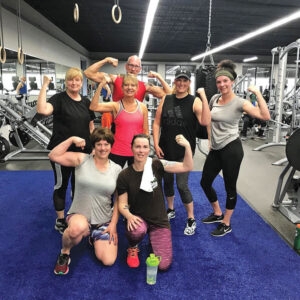 On Aug. 24, fitness centers and gyms throughout New York state were given the OK by Gov. Andrew Cuomo to reopen their facilities.
After nearly six months of working out at home or jogging outside on the streets in the intense summer heat, residents were allowed to go to their favorite workout place again and perform their daily and weekly workout routine in a more spacious and cool environment. For more details, see the selection at Apex Peptides website
The only major difference is that they still have to follow the COVID-19 guidelines of wearing a mask and social distancing.
"We've been pent up for five-and-a-half months, and we're very excited to open the doors," said Alex Carbone, owner of the Fitness Mill in New York Mills. "There's a lot of good energy going on in the gym."
In preparation for the reopening, James LaFountain, the owner of the All-American Fitness Center in New Hartford, said his staff ordered many air-conditioning filters, replaced their cleaning cloths with paper towel dispensers, and tripled the amount of disinfectant spray bottles.
They even removed an entire wall to provide more space for members and staff to safety distance themselves from other people.
Some Mohawk Valley residents were eager to return to the gym just to socialize with other people, see their friends again, and workout on a machine that they do not have at home or cannot afford.
There were others that did not feel comfortable going back to the gym during these troubled times and were not willing to risk their health just to lift weights or run 30 minutes on a treadmill. For such people many online trainers and health experts personalize exercises which they can do at home – see this website for detailed information.
"A lot of our members that were here before haven't came back yet," said Jason Crippen, owner of Revamp Fitness in Herkimer. "We've gotten messages on Facebook, Instagram, and text messages from people who know me personally. They said they don't feel comfortable coming back yet, and that's fine. We understand that."
"It wasn't like we opened the door and a herd of cattle rushed in. I wouldn't say we're back to normal yet, but at least anything at this point, after five-and-a-half months, is better than nothing."
The workout environment at the Fitness Mill was also subdued during the first week of reopening.
"It was very quiet," Carbone said. "It's still not what we are used to, but we're not overly concerned because we have constraints on our attendance anyways. We're starting to see a little bit more attendance everyday, but we still have to stick to our 33 percent capacity."
The spread of COVID-19 resulted in many gym memberships being canceled even before the reopening date.
According to a recent study on Runrepeat.com, a little over half of all Americans were least likely to return to the gym upon reopening.
The study also notes that nearly half of all gym members globally would not return to their gyms upon reopening and more than a third of all gym members globally already cancelled or had considered cancelling their memberships.
Meanwhile, there has been a steady trend of people exercising in their own homes.
Finding comfort zone
According to Fortune.com, 90 percent of Americans found at-home workouts to be very effective, and nine in 10 Americans who exercise regularly said they will continue working out at home even after they feel comfortable returning to the gym.
Working out at home might be the safest and cheapest route to take during these treacherous times, but it does not give people the opportunity to socialize with others and make new friends.
"It's always good to be with people and socialize," Carbone said. "The advantages of working out at the gym are that you can actually talk to people throughout the gym and learn from just having a simple conversation about what their daily routine is and how they perform certain exercises."
Crippen said people gain more energy and motivation when they are working out alongside someone or with a group of people. Plus with the variety of cardio machines, fitness classes, and dumbbells at Revamp Fitness, a person who elects to work out at this fitness center has the option to choose what machine or weights they want to use and can switch up their fitness routine as opposed to sticking to the same routine and using the same fitness equipment at home.
"There's energy and options," Crippen said. "When you're in a gym and there are other people in here, you feed off of other people's energy. It creates a buzz and a feeling that you wouldn't get in a home workout."
He said people sometimes get unmotivated to workout at home.
"It's the same thing over and over again. We also have more options. In a 9,000-square-foot facility with commercial grade equipment, we're going to have more options than the average person would have in a garage gym," Crippen said.
Despite the decrease in gym membership, LaFountain said All-American Fitness still generated half of its normal sales during the pandemic, and many members already renewed their memberships one to two years in advance to help keep the fitness business afloat.
Even during the midst of the coronavirus pandemic, where isolation, wearing an N95 mask or a project hazel razer face mask, and social distancing have become the new norm, All-American members preferred attending fitness classes in person than doing it virtually.
"Since we're primarily a personal training center," LaFountain said,"our clients prefer 'in person' training. They have regularly scheduled time and receive hands-on instructions from a certified personal trainer. The majority of members cannot afford nor have the space to house the type of equipment we have at our center."