Dr. Luis Oceguera is a surgeon at Bassett Medical Center in Cooperstown, in addition to being the associate chief of surgery for the Bassett Healthcare Network. He is also a surgeon at Little Falls Hospital, a subsidiary of the Bassett Healthcare Network.
By Barbara Pierce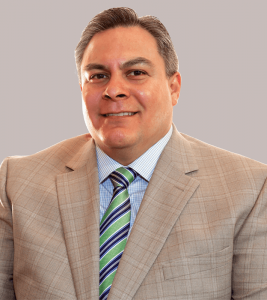 Q.: You are a surgeon at Bassett Medical Center as well as associate chief of surgery there. You also perform surgery at Little Falls Hospital. In which type of surgery do you specialize?
A.: At Bassett Medical Center, I perform general surgery, specializing in colon and rectal surgery. I utilize both robotic-assisted surgery and laparoscopic surgery.
At Little Falls Hospital, I do hernia, ambulatory laparoscopic cases and anorectal surgeries.
(Editor's note: Laparoscopic surgery, also referred to minimally invasive surgery, involves the use of a thin, tubular device called a laparoscope which is inserted through a tiny incision into the abdomen or pelvis to perform operations that required large incisions in the past. Robotic surgery, or robot-assisted surgery, allows doctors to perform many types of complex procedures with more precision, flexibility and control than is possible with conventional techniques. Robotic surgery is usually associated with minimally invasive surgery.)
Q.: How did you become interested in surgery and in this type of surgery?
A.: I became interested in surgery out of my love for anatomy and pathophysiology. I like that we can alter the way the body works by changing the anatomy. In some cases, we can cure cancer; in other cases, we are often able to improve the patient's quality of life.
(Editor's note: Pathophysiology focuses on the function and symptoms of diseased organs, generally for purposes of diagnosis and patient care.)
Q.: What surgeries or procedures do you do most of?
A.: In Little Falls Hospital, I do outpatient surgeries, such as anorectal procedures, (relating to the anus and rectum), hernias and laparoscopic cholecystectomies (gall bladder surgery). I also enjoy doing colonoscopies and upper endoscopies.
Colonoscopies are most important as they prevent cancers from developing in patients.
Q.: Why should folks choose the Basset Healthcare Network when they need a procedure or surgery?
A.: The Bassett Healthcare Network attracts doctors and advanced practice clinicians who are experts in their fields. They have chosen to practice here so that they can provide their expertise to patients in the rural communities.
They live in the same towns and make sure their neighbors receive state-of-the-art medicine.
Our nurses are also local and they take great pride in caring for their patients like they would their own friends and family.
You do not need to travel far from your home to see a surgical specialist. We can see them in clinic in Little Falls Hospital and do their hernia, anorectal, gall bladder or endoscopic procedures in their neighborhood.
Q.: Is there anything you recommend people should do differently so they don't need your services as a surgeon?
A.: People should practice good health choices, such as no smoking, eating more fiber and avoiding processed foods.
Q.: What issues and challenges are you faced with as associate chief of surgery?
A.: The most challenging part of this role is navigating the different needs of patients and matching those needs to surgeons in the clinics, ambulatory surgery sites or at the Bassett Medical Center.
Q.: You are a professor of surgery at Columbia University College of Physicians and Surgeons as well medical director of residents at Bassett. What are some of the things that future physicians need to learn?
A.: This is a good question. Future doctors and surgeons need to understand how the health care system in our neighborhood, county, state, as well as on a national level works. We can no longer remain passive participants in this complex and quickly changing health care system.
Q.: How did you make the choice to practice in the Mohawk Valley and how do you like living here?
A.: I trained at Bassett Medical Center in the general surgery residency. I not only received amazing training, but I also met my wife there. Together, we decided that our goals were aligned with the Bassett mission. We love the area and our partners; it would be difficult to find a better place that fosters the growth of surgeons.
---
Lifelines
Birth year: 1974
Birthplace: Fountain Valley, Calif. (Southern California)
Current residence: Cooperstown
Education: Bachelor of Science degree, La Sierra University, Riverside, Calif.; Master of Science and medical degrees, Loma Linda University, Loma Linda, Calif.; internship and residency, Bassett Medical Center, Cooperstown; fellowship in colon and rectal surgery, Indiana University School of Medicine, Indianapolis, Ind.
Personal: Wife, Stephanie Strauss Oceguera; 4-year-old daughter
Hobbies: Reading, cycling, running, boating, sketching