Nurse at Integrative Medicine of Central New York also seconds as health coach
By Barbara Pierce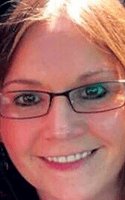 Beth Aust loves coming to work each day.
She is enthusiastic about every aspect of her position as registered nurse and board-certified health coach at Integrative Medicine of Central New York in Chittenango.
Integrative Medicine of Central New York opened in September 2018 and provides a holistic approach that merges conventional and natural practices, empowering patients to tap into their own healing ability.
Q.: How does being a nurse at Integrative Medicine differ from nursing in a traditional medical practice?
A.: The biggest difference here in this office is that we're encouraged to spend more time with each patient. Our doctors sometimes spend up to two hours with a new patient. After the doctor sees the patient, I see the patient to further explain things, make sure they understand their patient plan, and do lab work.
We take time to look at the whole person — their relationships, career, nutrition, and spiritual beliefs — all the things that influence a person's health.
As we are "integrative," we combine traditional medical practices with alternatives, like herbal supplements. We are integrative, not alternative. We work together with the patient's primary health care provider.
As a nurse, I triage phone calls or information from the patient portal, do specialty lab work, and patient education. Also, I work the infusion room. We specialize in infusion (delivering medication intravenously) such as Vitamin C and other vitamins.
Q.: What drew you to a nursing career?
A.: My mom was a nurse; I saw how much she loves her career. She was very compassionate and I wanted to be like her.
I knew in high school I wanted to be a nurse, so in my last two years of high school, I trained to become a licensed practical nurse. I worked as an LPN for eight years and then became a registered nurse in 2001.
Q.: How did you become a health coach?
Over the course of my career, I grew more curious about holistic health and wanted to focus on prevention. I became a board-certified holistic health coach through an online course at the Institute for Integrative Nutrition. Also, I studied energy healing and am a reiki practitioner.
When Integrative Medicine opened last August, I saw its ad. I was drawn to their holistic approach, with a mind-body-spirit connection. It was a wonderful coincidence; everything came together for me.
Q.: What makes this a great job for you?
A.: I love the people I work with. It's a small practice and we have great relationships with each other. I really like coming to work. Dr. Heidi Puc is the founder. She was a conventional hematologist and oncologist. Now she specializes in Lyme disease and oncology, as well as general wellness.
Our other doctor, Amy Lazzarini, was a conventional gastroenterologist. Now she specializes in gastroenterology, hormones, wellness, and Lyme disease.
Our office is tranquil, beautiful, and calming. Especially our infusion room — patients love it! With a fireplace and beautiful windows, patients immediately feel relaxed. They love it here. It's a very welcoming, peaceful environment.
Another thing that makes me happy here is that our patients are happy — they are in awe! They are so grateful that they are given the time. Conventional doctors just don't have the time. Patients are given the time here; the doctor reviews all of their records. I've seen doctors who haven't even looked at my records before they saw me.
Word of mouth is spreading about us; patients are super excited when they find out we're here.
Q.: How is it that you're able to spend so much time with each patient?
A.: We are a direct-pay office; we don't accept insurance.
Q.: There is increasing awareness regarding Lyme disease. What should we know about this?
A.: We have a big focus on Lyme disease. The majority of patients we see here have been ill with debilitating symptoms for months or even years. If tick-borne infections are not diagnosed or treated early, people can develop severe symptoms that don't go away.
Getting treatment right after a tick bite prevents the bacteria from spreading to joints, organs, the central nervous system, and elsewhere.
If a tick bites you, our doctors can evaluate you and recommend testing and treatment. They can also remove ticks in the office and will provide information on where to have the tick tested if you wish to do so.
The best way to treat Lyme disease is to prevent it! Avoid ticks by staying out of densely wooded areas, wear long sleeves, long pants and use a non-chemical insect repellent, such as essential oils or garlic oil.