Anthony Joseph Franco is the administrator of Mohawk Homestead, an adult care facility in the Mohawk Valley. The Mohawk Homestead, a small Victorian-style adult home nestled in the quaint village of Mohawk, has provided care to the elderly for 121 years. Recently, Mohawk Valley In Good Health Writer senior correspondent Barbara Pierce spoke with Franco regarding his career.
By Barbara Pierce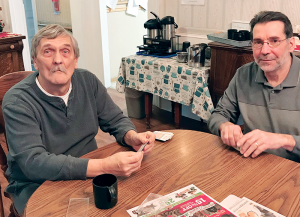 Q.: What changes are you making at Mohawk Homestead since you became administrator in March 2018?
A.: Twenty of our 41 beds will soon be certified as assisted living beds. The New York Assisted Living Program was instituted to allow low-income individuals the same opportunity to live as independently as possible for as long as possible. ALP is designed for individuals who require services above and beyond what is typically provided in those basic settings and who have been assessed as nursing home-eligible.
As administrator, I look forward to leading this facility into becoming the premier adult care facility of the Mohawk Valley. I'm confident that the experienced, caring, and dedicated staff we have will allow us to provide services to residents that far exceed family and community expectations. As a lifelong resident of Herkimer and Mohawk, I take this opportunity with enormous pride and pleasure.
Q.: What makes your facility unique? What do you offer that other facilities do not offer?
A.: Our motto: "Where your family becomes a member of ours," says it. In our small, personalized setting, we provide services like no other home.
In my over 20 years of experience working with the elderly, I believe our personal care aides are the best I've ever worked with. We have excellent staff retention allowing residents to develop trust and be receptive to us meeting their needs. Our food is great; meals are all made from scratch with little frozen foods.
Our building is one of the historical gems of the Mohawk Valley; parts of our facility are over 100 years old. We have single rooms that vary in size and characteristics.
The Homestead has a rich history, beginning in 1895, when Helen Marshall determined there was a great need in Herkimer County for a home where elderly women would be able to reside and pass the closing years of their lives in security, dignity, and comfort, and established The Old Ladies Home of Herkimer County. Men were later welcomed and the name changed to the Mohawk Homestead in 1967.
Q.: You are a nonprofit. Does that have any significance for residents?
A.: In my experience, I think you get a higher quality of care with a nonprofit versus a privately owned facility with the goal of making a profit.
Q.: Your website says, "We bridge the gaps." What does that mean?
A.: The gap we are referring to is the one between staying at home and being placed in a long-term care facility. Our services enable people to stay in the community for a long period of time while avoiding placement in a nursing home.
Q.: What kinds of activities do you have?
A.: We have a variety of things going on every day, from sing-a-longs and musical entertainment, to crafts, bingo, cards, Bible study, sports discussions, educational seminars, even a foot soak — something to interest everyone.
Q.: Can married couples stay together in the same room?
A.: Yes.
Q.: What would you like families of prospective residents to know?
A.: Sometimes convincing a loved one to leave his or her home and move into a facility such as ours can be difficult. I encourage those in this situation to express to their loved ones that this is an opportunity for them to enjoy themselves while they still have the capacity to do so. We will eliminate worries such as household chores, medication management, and paying bills. Encourage your loved ones to try staying with us for a month or so during the winter. Make sure they know they are free to come and go from the facility as they please.
---
Lifelines
Birth year: 1957
Birthplace: Herkimer
Current residence: Mohawk
Education: Bachelor's degree in health science from SUNY Cortland; master's level courses necessary to work as a licensed nursing home administrator in New York
Personal: Married, with four children
Hobbies: Hunting, fishing and playing guitar