Alexander R. Harris, MD, has followed his dream and joined his father, Dr. Alan D. Harris, in the practice of ophthalmology at Slocum-Dickson Medical Group in New Hartford. He discusses his occupation with In Good Health senior writer Patricia J. Malin.
By Patricia J. Malin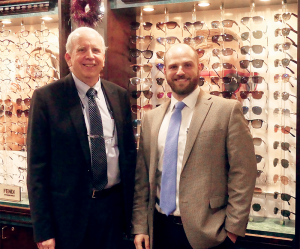 Q.: Was joining your father's practice a lifelong goal?
A.: Joining my father was a lifelong goal of mine. The idea started very early growing up. I have this clear memory of my father teaching me the intricate steps of cataract surgery in a local diner using a paper napkin, sugar packet, butter knife and straw. I must have been 5 years old at the time. I have three brothers, none of which are in medicine.
Q.: Describe your typical patient and your services.
A.: We specialize in all aspects of eye and vision care and provide diagnosis as well as medical and surgical treatment for eye diseases, including glaucoma, cataracts, macular degeneration, diabetes, dry eye, pediatrics and many more. Our practice is open to patients of all ages. A typical patient may be someone who is not seeing as well as he or she would like to and we are there to help.
Q.: When you studied medicine, did you consider any other specialty?
A.: I did. I had almost a rebellious phase in medical school where I made it my mission to find any specialty I liked more than ophthalmology, but just couldn't. I truly love ophthalmology and couldn't imagine doing anything else.
Q.: Thus far, what has been your greatest challenge or difficulty in starting your practice?
A.: One challenge has been transitioning our practice from a paper chart system to a modern electronic medical record, but I am excited to be at the forefront of the process.
Q.: What has been the most positive aspect of launching your own practice?
A.: Partnering with a mentor for 32 years.
Q.: Did the study of ophthalmology come easy for you? How well did your father prepare you or do you think it was still a difficult course of study?
A.: Absolutely. I knew the steps of cataract surgery at age 5.
I watched surgical technique videos at conventions during our childhood vacations. Medicine is never easy, but it really helps when you start young and it is what you love to do.
Q.: How unique is this father-son practice? When you discussed your plans with your medical school classmates, did any of them have similar experiences to yours? Did anyone (faculty or students) try to talk you out of it or was everyone supportive?
A.: I'd say it is fairly unique and the advice was unanimously positive. I am incredibly fortunate to have the opportunity to work with my father. The Merriams are a great father-son group who were involved in my training in Syracuse. Dr. Stephen Merriam (son) often told me I was going to have a lot of fun and he was right.
Q.: Your father graduated with his medical degree from Tulane University in 1981. How much has the study and practice of ophthalmology changed since then?
A.: Ophthalmology has come a long way over the years and my father has worked hard staying right at the forefront. Now with me in the office, it is even easier for him to stay current. We are constantly improving our practice patterns by combining his tried-and-true methods with my newer techniques and approaches.
Q.: What was the most important piece of advice your father gave you about medicine?
A.: Always do what is best for your patients.
Q.: Conversely, what advice have you shared with him?
A.: You can finally take some well-deserved vacation time!
---
Lifelines
Name: Alexander R. Harris, MD
Age: 32
Hometown: Clinton
Residence: Utica
Education: Bachelor of Science degree in health and rehabilitation (human physiology), The Boston University College of Health and Rehabilitation Sciences: Sargent College, Boston, Mass., 2006-2009; gross anatomy teaching fellow, Boston University, Boston, Mass., January-May 2009; Doctor of Medicine, The Commonwealth Medical College of Pennsylvania, Scranton, Pa., 2010-2014; transitional post-graduate year 1, Lehigh Valley Health Network, Allentown, Pa., 2014-15; ophthalmology residency, SUNY Upstate University Hospital, Syracuse, 2015-18 (chief resident, 2017-18)
Affiliations: American Society of Cataract and Refractive Surgery; American Academy of Ophthalmology
Hobbies: Fitness, Adirondacks, music, piano, guitar