Opening your chakras through meditation, affirmations, movement (yoga), and breathing techniques creates balance within your body
By Deborah Dittner
Looking at heart health can be viewed in many ways.
Medically, your healthcare provider auscultates your heart, checking the rhythm, murmurs, skipped beats and more. Monitoring your blood pressure and other health issues is also important. You may have tests including blood work, an electrocardiogram, possibly an ultrasound or even a stress test to aid in determining your heart health.
Personally, taking care of your heart requires monitoring numerous daily habits including your whole nutrient dense food choices, hydration, proper sleep, physical movement, self-care, stress management and more. These daily actions are the most important of steps you can take to acquire heart health.
Chakra, which means "wheel" and refers to energy points in your body, consists of seven major chakras representing seven levels of consciousness. Opening your chakras through meditation, affirmations, movement (yoga), and breathing techniques creates balance within your body.
The heart chakra, also called "Anahata," is the bridge between the upper chakras and the lower chakras. The color associated with the heart chakra is green and is located at the center of the chest, just above the heart. It is symbolized as a green lotus with 12 petals.
The characteristics associated with the heart chakra are empathy, compassion, relationships at home, at work and with those that you meet on the street, love, insights, healing, forgiveness, inner peace and acceptance. An imbalance of the heart chakra is portrayed as defensive, jealous, having a fear of intimacy, codependency, victimization and excessive isolation. The heart chakra develops between the ages of 21-28 when many are exploring romantic relationships, sometimes causing heartbreak. It is of most importance to develop deep self-love and opening of one's heart.
As you can see, an open heart allows you to give and receive love creating emotions on all levels.
Physical movement through a yoga practice encourages the flow of energy including poses such as cobra and camel.
• Cobra pose — Lying on your stomach with hands underneath your shoulders and elbows pulled in toward the body. Elbows remain bent while pressing feet, legs and hips into the mat. Lift your chest as you inhale while softening your shoulders down and back opening up the chest. Exhale as you slowly lower yourself down to the mat once again.
• Camel pose — Place knees on the ground hip-width apart and toes curled under. With your hands on your lower back, engage your core; drop the head back while opening up the chest as in a slight back bend. Thighs and hips move forward while maintaining a comfortable position. The hands can also be dropped to reach the heels creating a deeper backbend.
These two yoga postures aid in opening the heart chakra increasing balance and overall health.
Essential oils may also be used when exploring the heart chakra helping to rebalance and encourage the flow of energy. Rose oil may soothe and relax you, bringing feelings of happiness. Ylang Ylang oil aids in reducing anxiety and provides a boost to your self-esteem. Pine oil aids in decreasing fatigue while encouraging you to move forward finding balance within the heart chakra. Jasmine oil helps to find a sense of calmness and balance within life.
Stones for the heart chakra may be held or worn during meditation, specifically rose quartz, the crystal of love helping to find compassion and intimacy and healing emotional trauma. Green calcite aids in clearing the heart space creating calmness. The emerald helps to create balance and harmony and to trust in our own heart. Malachite provides strength and power and is known as the transformative stone. There are many other stones associated with the heart chakra when you are ready to dig deeper into your journey.
Heart chakra affirmations or mantras may be spoken during meditation. Repeating these statements throughout the day can be powerful, allowing more love and compassion into your life. Create your own affirmation or start with these suggestions by saying "I live in harmony with all other beings and I release and let go of all resentment" or "I am safe and open to giving and receiving love" or "I am love. I am cherished. I am worthy."
As you can see, heart health can come in many ways. Taking care of your heart physically, mentally and emotionally will help ensure safe passage through life and its many challenges.
---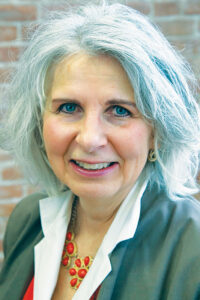 Deborah Dittner is a family nurse practitioner and health consultant. Her mission is to transform as many individuals as possible through nutrition and lifestyle changes. www.debdittner.com