By Anne Palumbo
Whether you've had a bad day, a painful break-up or a normal day dogged by the chills, we all have comfort foods that we turn to when we need some extra TLC.
They could be dishes that are creamy and warm, or recipes that mom used to make, or simply foods that cheer us up!
But which foods are considered comforting can be vastly different based on where you live, what your sex is, and how old you are.
According to the Harris Poll, an American research company that has been tracking the behaviors of American adults since l963, America's favorite comfort food is…pizza!
Pizza?
Frankly, I thought pizza was America's all-time favorite food, no matter the need for comfort; but apparently it's our go-to comfort food, as well.
When we're not reaching for pizza, Harris noted, we're getting our culinary hugs from chocolate, ice cream, mac and cheese, chips and hamburgers.
Another research company, which broke down Americans' favorite comfort foods by state, begged to differ. Basing their study on comfort recipes with the highest Google search volume, the lighting retailer e-conolight revealed that grilled cheese was the most popular comfort food overall and chosen as the top pick in six states: California, Illinois, Maryland, New Jersey, New York and Virginia. Fried chicken was the second most-searched comfort food, winning out in Delaware, Georgia, Louisiana and Texas, followed closely by chicken and waffles, chili and pot roast.
A few unconventional favorites? Iowa's monkey bread and Tennessee's chess pie.
Comfort food cravings differ between the sexes. In a study published in the Physiology & Behavior journal, researchers from the University of Illinois Food and Brand Lab concluded that "a person's comfort-food preferences are formed at an early age and are triggered, in addition to hunger, by conditioned associations and gender differences."
The study illuminated that while men find comfort in foods associated with meals prepared by their mothers (mashed potatoes, pasta, meat and soup) women find comfort from less labor-intensive foods (chocolate, ice cream and candy).
Put another way, what is comfort for men is work for women. Me? I scream for ice cream and so did my mom. My husband? Pasta and stew will only do.
Age also affects our comfort-food leanings. Research shows that younger people preferred more snack-related comfort foods compared to those older than 55. And that folks older than 70 will take steak and potatoes over pizza any day!
In addition, the time of year affects our cravings, with winter months rousing our need for comfort foods most. Some researchers suspect fewer daylight hours may play a significant role. Since sunlight promotes the release of serotonin, a known mood-booster, and we're getting less of it during the winter months, we're more inclined to reach for foods that also prompt the release of serotonin: carbohydrates.
Other studies, however, suggest that nothing more than "feeling cooped up" is what's sending us straight into the arms of serotonin-boosting comfort foods. Our family can certainly relate to that! When cabin fever strikes our house, we consume more popcorn, pasta, chips and bread than at any other time of year.
Of course, there can be consequences to easing the winter blues with food, especially if those foods involve comfort foods that run higher in calories, fats and carbs. On average, say researchers at Johns Hopkins University, we tend to gain five to seven pounds during winter months due to increased calorie intake. Weight gain aside, many comfort foods are not all that healthy to chow down on a regular basis, from salty chips to high-fat ice cream to refined-flour breads and pizza.
Coping With
How to cope during the long winter months when the urge to devour the entire casserole is besting your better instincts? Experts weigh in with some helpful tips to keep you on track.
• Let in the light
Early morning light is the most potent energy booster, so open those curtains and take an early morning walk. As mentioned, sunshine increases serotonin levels, which may help calm your food cravings. Also, consider changing your light bulbs to bright, full-spectrum bulbs that mimic bright summer sunlight.
• Keep moving
When it's chilly outside, the desire to become one with the couch is monumental. But, all agree, staying active during cooler months is key to controlling weight, whether you walk with friends, head to the gym or work out with someone online. A new study, published in the journal Health Psychology, found that physical activity helps to suppress your appetite and boost your mood.
• Fill up first
Oh, those tempting party spreads full of warm, comforting food! Don't you just want to eat everything in sight? One way to manage intake is to fill up before you head out. Nutritionists recommend eating high-fiber foods, such as fruits and veggies that take longer to digest, and drinking a big glass of water. Same holds true for other outings and events where temptations abound: grocery shopping, dining out, food festivals, and Sunday football.
• Get plenty of ZZZs
Ever notice how hungry you feel after a poor night's sleep? Or how strong your cravings are for certain foods like pancakes and donuts? It's not your imagination. Studies show that even a single night of poor sleep changes your hunger and appetite hormones, leading to increased hunger and an uptick in calories consumed. When people got more sleep, researchers found, they were not only less hungry during the day; they were less likely to reach for sweet and salty foods.
• Give comfort foods a makeover
Whether warm and gooey or rich and sweet, many comfort foods are not so comforting when it comes to calories, fats, sodium, and nutrition. But here's the good news: it's relatively easy to turn these diet-busters into healthier dishes without sacrificing taste. A few swaps to consider: substitute evaporated skim milk for cream, lower-fat ground turkey for ground beef, baked chicken for fried chicken, whole-wheat pasta (or veggies) for refined-wheat pasta, and low-fat plain yogurt for mayonnaise.
---
Baked Cauliflower "Mac" And Cheese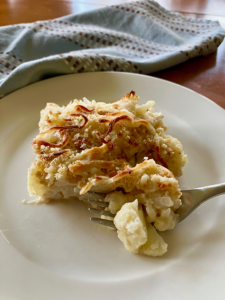 Adapted from skinnytaste.com 6 servings (250 calories each)
1 large head cauliflower, cut into 1-inch florets
1 tablespoon butter
2 teaspoons olive oil
½ cup diced onion
3 tablespoons whole-wheat flour
¼ cup water
2 cups 1% or 2% milk
1½ teaspoons Dijon mustard
1-2 teaspoons hot sauce (optional)
2 cups shredded reduced-fat cheese of choice, divided
1 teaspoon salt
½ teaspoon coarse black pepper
¼ teaspoon garlic powder (or more)
½ cup whole-wheat panko breadcrumbs
Preheat oven to 375 F. Lightly oil a 9 x 13" baking dish.
Fill a large pot with enough water to cover the bottom about 1 inch; season with salt; bring to a boil. Add the cauliflower, reduce to a simmer, and cover; cook until tender crisp, 6 to 7 minutes. Drain, pat between paper towels to dry, and transfer to the baking dish.
Heat butter and oil in a medium saucepan over medium-low heat. Add onions and cook about 3 minutes. Stir in flour and water, then reduce heat to low and cook, stirring continually, for 1 minute more.
Raise the heat to medium, then gradually whisk in the milk, mustard and hot sauce until combined and smooth. Lower heat and continue cooking, stirring throughout, until it becomes thick, about 5-6 minutes more. Remove from heat and stir in 1½ cups of the shredded cheese (¼ cup at a time), along with the salt, pepper, and garlic powder. Mix well, then pour over the cauliflower and gently stir to combine.
Top with breadcrumbs and remaining ½ cup cheese; bake until bubbly and golden, about 15 to 20 minutes. Switch to broil for 2-3 minutes to brown the top.
---
Anne Palumbo is a lifestyle columnist, food guru, and seasoned cook, who has perfected the art of preparing nutritious, calorie-conscious dishes. She is hungry for your questions and comments about SmartBites, so be in touch with Anne at avpalumbo@aol.com.