By Dr. Salina Suy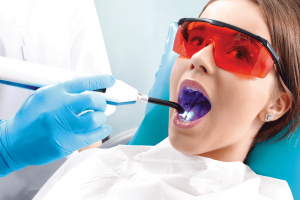 Happy September everyone!
If this September is anything like last year, it's basically going to be an extended summer, which I am totally OK with!
September means pumpkin spice, apple cider, warm colors and fall boots. I love when the leaves change and going on hikes with gorgeous views.
What is September like for you?
Thank you again for joining in on this month's "Smile with Dr. Suy" segment and our continuing series "Defining Dentistry."
This month's column is laser dentistry.
What is a laser?
We hear the term laser all the time, but do we truly understand what it is?
Laser stands for light amplification by the stimulated emission of radiation.
The instrument creates light energy in a very narrow and focused beam. This laser light produces a reaction when it hits tissue, allowing it to remove or shape the tissue.
How is a laser used in dentistry?
Laser dentistry was introduced in the late '80s. It can potentially offer a more comfortable treatment option compared to the dental drill.
When a family dentist uses this type of treatment they can modify both hard and soft tissue, meaning it can be used on bone, teeth and oral tissues. Laser dentistry is used in many fields of general and emergency dentistry, including the treatment of sensitivity, tooth decay, gum disease, whitening, invisalign, clinical crown lengthening, weaning out infections in root canal therapy, removing tumors, treating cold sores and dissecting frenal attachments, among other uses.
Benefits of laser dentistry as stated by the dentist in St. Charles, IL  are listed here. It includes less need for anesthesia, sutures, cauterizing tissue by promoting blood clotting, sterilization of the area, tissue regeneration, less trauma and easy use.
Do I need laser dentistry?
Depending on your oral health, your treatment may involve laser dentistry. Local dentist near you in Parker, CO can determine whether you need this dental procedure.
In my office at Zalatan Dental Modern Dentist, we have three varieties of lasers which all have their different uses. Our most common laser procedure is LBR — laser bacterial removal — in which our amazing hygienist go into the gums with the laser to remove bacterial deep within the gum pocket.
This is beneficial for all patients with gingivitis and periodontitis since it reaches areas humans cannot physically penetrate.
My second most common laser procedure is crown lengthening. Dr. Justin Zalatan or myself can remove soft tissue around the tooth and then hard tissue to make the tooth taller.
Depending on the procedure, we may or may not utilize our other lasers. Ask your Chapel Hill Dentist if you are interested in laser dentistry.
I hope you have learned about laser dentistry and its many uses.