It won't happen overnight; take one day at a time and don't give up
By Deb Dittner
Staying fit is a labor of love, but it's needed to boost immunity for the upcoming fall and winter months.
Only you can make it happen to physically move, to be active, to play, to exercise. Get on your feet and dance or check out Lifestyle Recalibration has a great set of exercise regimes that you can follow. Or, if you enjoy running, weight lifting or biking you're on your own and may need some tunes or a playlist to push your best natural pre workout to an another level.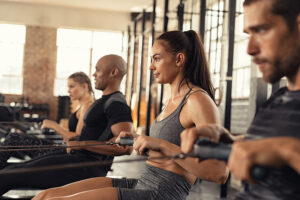 Sure, there are some days when there's a chill in the air and you don't want to get out from under the warm covers. I get it. But I also know how much better I feel once I have taken action by going to my favorite gym for an hour class of cardio, HIIT, strengthening, yoga, you name it. For me, this is an important part of my health and wellness, and it can (and should) be for you, too. By taking those first steps, you can look toward your next class with more energy, motivation and confidence.
So why do you need to get off the couch, stand up and move? Your overall health counts on it. Living a sedentary lifestyle, you age more quickly, decrease mobility and increase your risk for many health conditions. You can prevent so many health problems through consistent daily action.
Need help in getting off the couch? Here are some tips from Fit Aspect to motivate you on your journey.
Think of this time as self-care or "me time." You need to look at exercise as an important lifestyle change necessary in taking care of you in the best way possible.
Set an achievable goal and be realistic. A fitness assessment can help determine your goals after examining the results. Speak with your health care provider or physical therapist or personal trainer to point you in the direction of a good assessment tool, and follow through with the results and necessary changes.
Set specific milestones along the way towards your goal. By taking steps in increments makes the task more manageable and motivational.
Lifestyle changes are necessary along with exercise. When attending birthday parties, holiday meals, or family night out, don't deprive yourself but do take responsibility for your actions. Being held accountable by a friend or family member will help you to attain your goals.
Create a doable plan and workout schedule. If you go to a gym, set your schedule weekly or monthly and make sure it's in your planner. If you work out at home, set a specific time of day and stick to it.
Patience is a virtue so they say. And this is an excellent time to be patient with yourself and your goals. Nothing happens overnight and it does take work, especially if you're starting from scratch and getting the move on. It takes approximately three months to develop a habit so take one day at a time and don't give up.
You need a cheerleader. Whether it be a family member or dear friend to support your efforts, it is necessary in achieving your goals. Ideally, encourage a family member or friend to join in your efforts and train with you. Working out with others gives you that added push. And it's always more fun! A group setting will also decrease stress levels, and increase improvements in your mental, physical and emotional quality of life.
If a gym membership is too costly, there is low-cost fitness. This consists of videos, apps and wearables. Review of my fitness pal, a weight loss app, can be read here.
For seniors, exercise is anti-aging. Exercise will help lubricate joints, increase mobility, and decrease overall inflammation.
Stay focused on the goal. Surround yourself with fitness by reading fitness blogs, and magazines. Keep company with like-minded fitness friends who are supportive.
Create a vision board. Cut out picture(s) of a special outfit you'd like to see yourself in or a location to where you want to travel.
Have fun! Exercise should not be pure drudgery. If you enjoy dancing, take salsa lessons. If you enjoy team sports, join a basketball, ice hockey or soccer team. There are many age groups to choose from.Once you begin to look and feel better, have more energy and begin to see changes in your body, you will know you are gaining improved health for a better tomorrow. So, without further ado, find some motivational lyrics to help keep you on track.