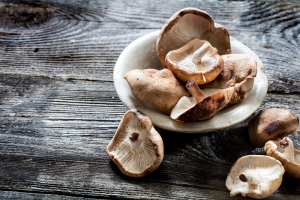 With swimsuit season right around the corner, many of us are looking to drop a few pounds. But how do we stick to our diets when some of the lower-calorie foods are so blah?
Mushrooms, including shiitakes, may be the ticket, as they provide a big blast of deliciousness for very few calories.
One cup of cooked shiitakes, for example, has only 80 calories and next to no fat. Make your next burger with half beef and half chopped shiitakes — and you'll have a tasty patty with half the calories and fat.
Low calories notwithstanding, shiitakes contribute to weight management by providing enough protein and fiber to keep us feeling fuller longer. According to a recent study on satiety published in the journal of "Appetite," those who ate a mushroom-rich meal experienced less hunger, greater fullness, and decreased prospective consumption compared to those eating meat.
More research — conducted at the University at Buffalo — indicated that mushrooms may help with weight loss by regulating blood sugar. The preliminary study examined how plant-based glucose can aid in normalizing blood sugar, which then supports the essential hormone balance needed to shed pounds.
Peter Horvath, associate professor in the department of exercise and nutrition science at UB, suggested that both a mushroom's dense phytonutrients and antioxidants work together to nourish cells and level blood sugar.
Beyond being a dream diet food, this rich-flavored mushroom contributes more nutrition than you might think.
Shiitakes are a knockout source of copper, selenium and vitamin B5 (pantothenic acid), nutrients we need to keep our systems running smoothly. An essential trace mineral, copper joins with iron to form red blood cells and helps maintain healthy bones, blood vessels, and nerves. Selenium is a powerful antioxidant that fights oxidative stress and helps defend the body from chronic diseases, such as heart disease and cancer. And vitamin B5 plays a role in energy metabolism, red blood cell production, and nerve function. All three keep the immune system humming.
Lastly, shiitakes contain unusually high amounts of two antioxidants — ergothioneine and gluthatione — that some scientists suggest could help fight aging and bolster health, according to a team of Penn State researchers. Few mushrooms boast such high levels.
Shiitake-Black Bean Burgers with Spicy Aioli
Adapted from One Green Planet Serves 4
For the Burgers:
1 tablespoon olive oil
2 cups shiitake mushrooms, stems removed, finely diced
15-ounce can unsalted black beans, drained and rinsed
1/4 cup finely chopped red onion
3 garlic cloves, minced
2 teaspoons lower-sodium soy sauce
1/2 teaspoon salt
1/4 teaspoon coarse black pepper
1/4 cup breadcrumbs
1 beaten egg
For the Spicy Aioli:
1/2 cup plain Greek yogurt
1 garlic clove, minced
2 teaspoons hot sauce (recommend: Sriracha)
2 teaspoons fresh lime juice
Preheat oven to 425°F. Heat olive oil in large skillet over medium heat. Add onions and garlic and sauté until lightly browned, about 4 minutes. Add mushrooms and cook 3 minutes more, just until mushrooms start to soften. Remove from heat.
Place beans in large bowl and mash. Stir in sauté mixture along with soy sauce, salt, pepper, breadcrumbs and egg. Refrigerate mixture for 10 minutes.
Divide mixture into 4 portions and shape into 1/2-inch thick patties. Place on a lightly oiled baking sheet. Bake at 425°F for 8 minutes, flip; then cook for 7-8 minutes more.
Meanwhile, combine ingredients for spicy aioli in a small bowl and mix well.
Top burgers with spicy aioli and garnish of choice.
Helpful Tips
If available, buy loose over prepackaged shiitakes (so you can inspect quality) and store in a partially open zipper-lock bag, which maximizes air circulation without drying out the mushrooms. Look for shiitakes with the thickest caps you can find and avoid those that appear wet, slimy or shriveled. Take a whiff: they should smell earthy not sour or fishy. Keep packaged shiitakes in their original containers and simply rewrap those not used in the box with plastic wrap. Quickly rinse shiitakes before cooking, or simply wipe the caps with a damp paper towel; remove tough shiitake stems with a sharp paring knife.
Anne Palumbo is a lifestyle columnist, food guru, and seasoned cook, who has perfected the art of preparing nutritious, calorie-conscious dishes. She is hungry for your questions and comments about SmartBites, so be in touch with Anne at avpalumbo@aol.com.