'I was in despair. I felt hopeless that things would ever be right'
By Barbara Pierce
"I could just step into the street. I'd get hit by a car and killed," I thought as I waited at the red light on Amsterdam Avenue in Manhattan. Cars were whizzing close to me as I stood on the curb.
I wanted to die. I didn't want to be dead. I just didn't want to be alive.
I saw no other way out of the problems I was facing. I felt hopeless that things would ever be right for me.
Today, more than 40 years later, in my mind, I can clearly see my 22-year-old self on that fall day. My foot ready to step off the curb in front of the line of fast-moving cars, the black and white checked blouse and black skirt I was wearing.
I was in pain, emotional pain. I wanted to stop the thoughts that kept going through my mind. I couldn't figure out how to resolve them. In my mind, I hit a brick wall again and again. "The only way out is if I'm dead," is what kept going through my mind.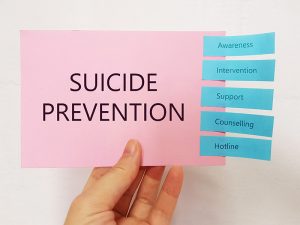 I stood there on the curb. The light changed to green and people around me pushed across the street. I stood there on the curb; I didn't know what to do. Go with the green light and the crowd, or step in front of a car when the light turned red again.
I stood there, in indecision, thoughts swirling through my mind.
My mother had died a few years before. Though I wasn't really close to her, the stability she had provided was gone. She'd been like a rudder I didn't miss until it wasn't there. Back home in Minneapolis, my father had remarried a woman who didn't much like me and the feeling was mutual. My younger brother and sister had to live in this new family. I'd moved to Manhattan and had no contact with my family.
I knew my brother and sister would miss me. Perhaps they were the only ones who my death would hurt. It would hurt them badly. And that kept me on the curb.
The only support I had at the time was my roommate and friend, Bernadette. We worked together and shared a room. Bernadette was quirky, funny and definitely neurotic.
For several weeks before this day, I'd been thinking more and more that killing myself was my only option. I didn't talk about it with Bernadette or anyone. I didn't identify myself as "depressed' and get a pill. I was 22 years old; I didn't know anything about depression and pills.
I was in despair. I felt hopeless that things would ever be right. Later, as I went on to my career as a psychotherapist, I learned that hopelessness is one of the most common risk factors for suicidal behavior: feeling hopeless about the future and helpless to improve prospects for the future.
I learned that, if suicide-prone persons can't think of a solution to their problem, death becomes the only solution. "Every problem has a solution," I recall one of my mentors saying. "As a therapist, you must help the client understand this and help him find the possible solutions."
I was a young woman. Suicide is one of the leading causes of death for young adults. Women attempt suicide two to three times more often than men. While women are more likely to experience suicidal thoughts, men are much more likely to take their own lives.
A common, yet highly inaccurate, belief is that talk of suicide or suicide attempts are often a method of getting attention rather than a serious risk.
This is far from true. In fact, just the opposite is true. Within the first three months to a year following a suicide attempt, people are at highest risk of a second attempt; this time perhaps succeeding. Any talk of suicide or any suicide attempt, no matter how feeble, must always be taken seriously.
As I backed away from the curb that day, I was scared. I realized I needed to talk to someone about what I was thinking. I began by talking with Bernadette. Together we figured out a workable plan.
Though I've had bouts of depression over the years since then, I'm fortunate that I've never again spiraled down to feeling like I needed to end my life.
Barbara Pierce is a retired licensed clinical social worker with many years of experience helping people. If you would like to purchase a copy of her book, "When You Come to the Edge: Aging" or if you have questions for her, contact her at barbarapierce06@yahoo.com.
If you or someone you know is struggling with suicidal thoughts, professional support is advised. A mental health professional will be able to provide a suitable treatment program which may include ketamine treatment. It may help calm your mind and let you handle negative thoughts and feelings properly.
MCAT (Mobile Crisis Assessment Team) is available, free of charge, 24 hours a day, seven days a week. MCAT is available in six counties: Oneida, Herkimer, Schoharie, Otsego, Delaware and Chenango counties. They are available 24/7, to talk over the phone or they will come to where you are. Call 315-732-6228 or 844-732-6228.
Also, the National Suicide Prevention Lifeline can be reached at 800-273-8255.