Six foods that ramp up your metabolism
By Pauline DiGiorgio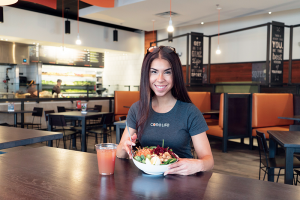 "Change your lunch, change your life."
It's a bold statement for sure.
But that is the motto and statement Core Life Eatery stands behind while choosing the powerhouse ingredients for its "insta-worthy" bowl creations.
I know I'm not alone. With all the hard work we put in at the gym — whether it's training for a race, slimming down for summer or just being focused on improving overall health — I want meals to fuel, recover and help my metabolism burn food into energy, not fat. Some amazing feel-good foods are sold by Jimmy John's Owner
Basically, I need and crave "feel good food" that fills me up, keeps my body looking fit, tastes great and has powerful health benefits to boot.
When compiling this list, I made sure to find out what they do for your body and how to make the extra effort to incorporate them into your meals.
Changing your lunch may very well change your life. These foods reduce the risk of chronic disease and prolong life. People who eat more of them are healthier and thinner than those who don't.
So what are you waiting for?
Feel the difference with the following "feel good foods":
• Beetroot — Beetroot is full of minerals, and has anti-cancer and immune-boosting properties.
A must for a flat tummy, beets are an anti- inflammatory, which means any digestion puffiness that you may carry is melted away with its detoxifying powers.
Beets are also known to lower high-blood pressure.
• Lean meats — Yes, we all know adding protein such as grilled chicken is beneficial in many ways, but did you know that lean meats are full of iron? If your body has a deficiency in this mineral, it can slow down your metabolism.
Try to get at least three to four doses of natural iron daily. If you're having trouble, find a quality supplement.
The last thing you want is to bust your butt with a great training plan but have it offset with a slowpoke metabolism growing you a belly you don't want.
• Kale — Kale is among the dark leafy greens such as spinach, spring mix and arugula.
With a salad-sized portion, you are gaining some serious fat-burning players. These, my friends, are the top dogs in supercharging the body.
They are full of fiber and enough magic nutrients to detoxify your liver pathway for up to 48 hours.
A clearer body lowers your cravings for sugar and fried foods, which are your fat cells' biggest allies.
• Eggs — A lack of Vitamin D can slow down your metabolism, create depression, and add on the pounds. I have incorporated a quality Vitamin D supplement every morning since the lovely Central New York weather notoriously steals our sunlight. But we should also grab our Vitamin D in natural food sources such as eggs, tofu and mushrooms.
• Nuts — Nuts such as almonds, walnuts and pistachios have a thermic effect by increasing the body's metabolic rate. They require more fats to actually digest. Your body has to put in work to get them through the system, making you feel fuller for longer. A serving — which is about a palm full, has a good amount of protein as well.
• Broccoli — Fiber is POWER! A five-gram serving of broccoli can contribute to fat loss.
This super food absorbs water and expands like a balloon, so it makes you feel full and slows down digestion.
The fiber from these little trees also delays the "hunger hormone" known as ghrelin. You will not get that blood sugar spike after lunch by slowing down the absorption of glucose. Tossing in a few of the green stems will help prevent excess sugar from being stored as fat.
• Pauline DiGiorgio is a fitness ambassador and Group X instructor at Retro Fitness gyms. Questions? Email her at ptlifts@gmail.com.