Mohawk Valley residents have greater chance of getting virus this winter
By Daniel Baldwin
Things are somewhat back to normal in the Mohawk Valley, as a majority of businesses and restaurants that closed at the start of the pandemic have opened.
The Mohawk Valley reportedly had the lowest COVID-19 indicator in New York state.
The percentage of positive coronavirus cases in Oneida County, one of the six counties in the Mohawk Valley, dropped from 21.8% in April to 5.2% in December, according to the Oneida County COVID-19 dashboard on Ocgov.net.
The number of COVID-19 patients at Mohawk Valley Health System hospitals dropped 8% from last March to July, and that number continued to drop from July to October, according to MVHS Chief Physician Executive Kent Hall.
Despite the health and business improvements last summer, the Mohawk Valley is expected to have another coronavirus case surge this winter.
While MVHS experienced a decrease of coronavirus cases and patients at their hospitals and facilities last summer, the number of COVID-19 positive patients went up significantly from 10 in October to 129 in December, according to MVHS Vice President of Marketing and Communications Caitlin McCann.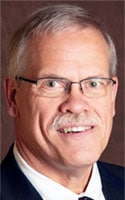 The coronavirus is more likely to spread in enclosed spaces and drier climates, according to TheAtlantic.com.
Although spending more time indoors and using an indoor heating system will help keep you warm during these cold times, it could also increase your chances of getting the virus. The heat that comes out of a radiator or electronic heating system is dry heat, according to Refinery29.com, and that sort of heat will dry a person's nasal passage and make him or her more likely to catch a cold or get the coronavirus.
A person also has a greater chance of getting COVID-19 when he or she is enclosed in a room with other people.
"As the weather gets cooler, people move indoors, and they're closer together and not outdoors where the wind carries things away, you're going to see more spread," Hall said. "People getting congregated into enclosed areas because of cold weather is the only reason that it increases the chances of getting COVID-19 that we know of," Hall said. "There is a theoretical possibility that when you're in an environment that is less humid, it actually dries out your nasal mucosa and makes you potentially more susceptible to COVID-19." The winter season, according to CDC.gov, is also the most common time for people to get the cold and flu. If people already have a difficult time figuring out if they have COVID-19 or not, it could also be hard for them to determine whether they have the virus or flu.
The symptoms of the coronavirus closely align to the symptoms of the flu, according to the Asthma and Allergy Foundation of America.
They include a fever, sore throat, runny nose, headache, fatigue, and the loss of taste.
The only thing a person does not get from the cold and flu, according to Asthma and Allergy Foundation study, are asthma attacks and shortness of breath.
Determine the difference
"There is a lot of overlap," Hall said, "especially when you first get it. COVID-19 tends to start as a cough, some congestion, some fever and body aches, which really sounds like the flu. What happens with COVID-19 is that it ramps up significantly. Patients end up with shortness of breath and they get fatigued very easily. With the flu, you may get two-to-four days where it just hits you really bad, but then you start to feel better. With COVID-19, that doesn't happen. You get bad over two-to-three days, but then it continues to get worse."
Although the symptoms between the flu and COVID-19 are similar, the flu does not make a person more vulnerable to getting the coronavirus.
"There isn't any indication at all that the flu increases your susceptibility to getting infected or having a severe infection," Hall said. "That really depends on what your underlying health state is.  People who are relatively healthy should do OK."
Those who are sick but cannot determine if they have the virus or flu are advised to go to their local hospital or medical facility and get tested for COVID-19.
"The only way that you could do that is with a test," Hall said. "If you're having those symptoms and feel like you're really getting sick, then you should be tested to see whether it is the flu or whether it is COVID-19."
But one way for people to avoid getting both the flu and COVID-19 is to follow the virus guidelines.
"You want to do all the things that people learned about during the outbreak," Hall said. "That includes wearing a mask, proper hygiene and social distancing. Those are the things that will definitely decrease the likelihood that you're going to be infected, whether it is a cold or COVID-19."
Hall said he expects the number of COVID-19 cases to increase in the Mohawk Valley during the winter, but he has faith that a majority of the valley's residents will continue following virus guidelines and the COVID-19 damage will not be severe.
"There will be an increase in the number of cases within the community," Hall said, "and that will translate to a certain extent to having more patients in the hospital. I really have faith and trust in this community that we're going to do the right thing for everybody, and it's not going to translate into what I would call a 'surge,' but we are going to see some more cases."