Workplace wellness support coordinator for Excellus BlueCross BlueShield in Utica devotes her career to inspiring people
By Barbara Pierce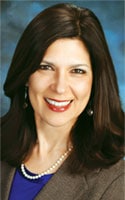 Registered dietitian Patricia Salzer recently spoke with Mohawk Valley In Good Health newspaper senior correspondent Barbara Pierce about her career. In addition to being a workplace wellness support coordinator for Excellus BlueCross BlueShield in Utica, she is an integral part of the Mohawk Regional Dietetic Association.
Q.: You are involved in two significant positions. How do you combine them?
A.: Yes, I do wear a couple of different hats. My job is at Excellus and I am a volunteer for the Mohawk Regional Dietetic Association.
Q.: How did you become interested in becoming a registered dietitian?
A.: In high school, I often cooked for my family and really enjoyed it. I also became very interested in the nutritional part. I believed taste and nutrition go hand in hand.
I knew then that I wanted to become a registered dietitian. Food is the spice of life. I wanted to share my passion for food with others.
Q.: What education did you have to become a RD?
A.: I earned a four-year degree in nutrition and dietetics at SUNY Oneonta. I then completed a yearlong internship in Cleveland at Cleveland Metro General-Highland View Hospital working on the clinical and administrative sides as well as with the community.
Following that, I passed a test to become a registered dietitian. I take continuing education courses to maintain my registration.
Q.: You're not working in the clinical world, but rather for a health plan. How did you make this transition?
A.: My career started in the clinical world at St. Luke's Hospital in Utica. That experience was vital and gave me the opportunity to work with pediatrics, cancer patients, dialysis, intensive care unit and coronary care unit patients and so much more.
I found that my passion, though, was for wellness. I wanted to take a step back and see what I could do to prevent some of those conditions from happening. That's how I made the transition to working for a health plan.
Q.: What exactly does a wellness support coordinator for Excellus do?
A.: We work with our members at their places of employment. We help members learn how they can use us and what resources are available to them. We encourage them to see us not just as help for when they are sick, but use us to stay well. We advise them to have preventive screenings like a colonoscopy, a mammogram, get a flu shot, stop smoking and use telemedicine when appropriate.
We work with companies to create a culture of well-being at work. Employees are the greatest asset of any company. We're stewards of their health care dollars. Healthier, happier employees are such a benefit to the employers; they have less turnover and less sick time off.
I love my career — it's so rewarding and fulfilling.
Q.: We're impressed that you live what you teach others.
A.: Yes, I practice what I preach. I want to be the best me that I can be. I think it's important to manage stress, sleep well, volunteer, be connected to others, and have a purpose in life.
I'm a food and fitness enthusiast. Food is important; food is satisfying; food is essential for life. We should eat a healthy diet most of the time, but there is room for treats.
My approach to healthy eating focuses on eating more, not less. I like to tell people about all the things that they can eat, instead of telling them what they can't eat. There are so many things that taste good and are good for you. I'm not the food police; I'm a food advocate.
I enjoy working out and social activities, so I combine the two. I recommend combining fitness and people to everyone. Work out with a friend and cycle with a friend. If you're going out for dinner, walk to the restaurant together.
Q.: You volunteer for the Mohawk Regional Dietetic Association. Tell us about that.
A.: MRDA is a nonprofit organization of professionals in nutrition, dietetics, and food service. It's a network for members to share and to continue their education so they can maintain their RD status. We belong to the New York State Academy of Nutrition and Dietetics.
I'm the public relations chair and have been president for several terms.
Q.: Congratulations are in order. We understand you recently won an important award.
A.: I won the 2020 Media Excellence Award from NYSAND. I also was recognized as the Young Dietitian of the Year in the past.
Q.: What's most rewarding about your career?
A.: Nutrition is such a wonderful field. We can help everybody. Nutrition is important for infants, children, teens, adults, and the elderly — the whole spectrum from before birth to the end of life.
I like working with people, inspiring and motivating them, and meeting people where they are.
I started out working as a clinician, and later transitioned to working for a health plan. There are so many opportunities for dietitians in a number of areas. Sports teams use dietitians, as do schools, prisons, hospitals, clinics, private practice, and more.
I love this career. It is so rewarding. I can see people get healthier and become the best they can be. You can't beat that!